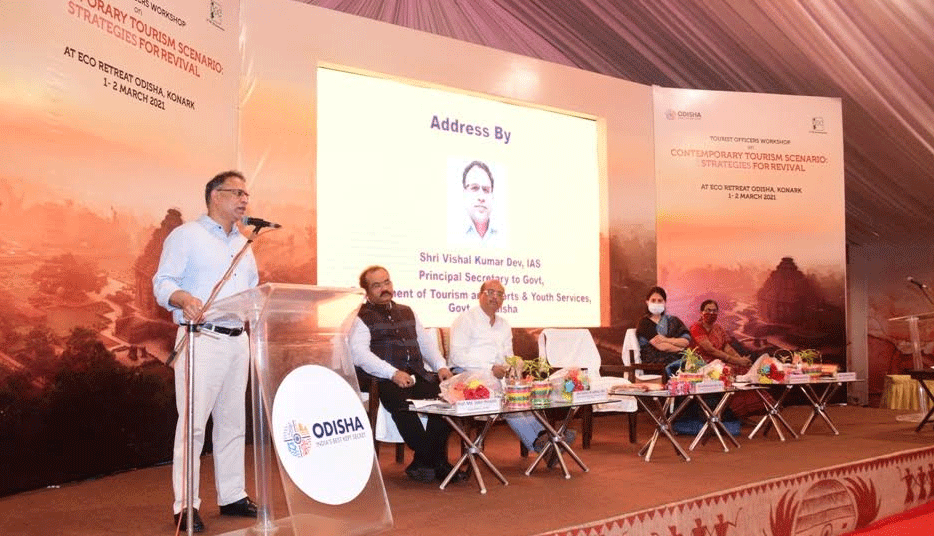 Konark: Vishal K Dev, Principal Secretary Tourism and Sports has urged the Tourist Officers to become the brand ambassador of their respective districts they represent.
Mr.Dev was speaking in the workshop organized to chalk out Plan for Odisha Tourism. He said "Tourist Officers have a crucial role to play in the implementation of the revival strategies. They need to act as facilitators in attracting private sector investments and work towards improving ease of doing business in the state. This will not only expedite the creation of new tourism products but also add to the economic development".
He deliberated on creating experiential tourism products like homestays, heritage properties, caravan tourism, houseboats and cruises among others.
Principal Secretary Mr.Dev emphasized on the changing paradigm in tourism sector and elaborated the vision of the department in coming years. Odisha Tourism organized a workshop on "Contemporary Tourism Scenario – Strategies for Revival into the World of (New) Next Normal for the State of Odisha" at Eco-Retreat, Konark for the Tourist Officers of the State.

The workshop was organized in association with Indian Institute of Tourism & Travel Management, Bhubaneswar to share the plans and strategies to revive and strengthen the sector over the next 3 years and expound on the vital role Tourist Officers need to play in promotion, development and sustainability of tourism in their respective districts.
Jyoti Prakash Panigrahi, Minister of Tourism inaugurated the Workshop and highlighted the state's resilience in battling adversities and the good governance system that made a huge impact in changing people's lives. He emphasized on the significance of tourism for the socio-economic development of the state.

Sachin R. Jadhav, Director Tourism stressed on viewing the tourism sector as an industry with huge potential to contribute towards social, economic and community development. "Tourist Officers should take proactive steps to identify destinations with tourism potential and work towards maintaining a rapport with other government departments to facilitate investments for sector development," he said.
Mr.Jadhav also gave insights into the strategic work being carried out by Department of Tourism under the 5T charters which includes integrated master planning and development of priority destinations across the state, coordinating with other government departments to facilitate land investment and infrastructure development, marketing and promoting Odisha as a tourism hub both nationally and internationally, focus on community and livelihood development through tourism among others.
Shreemayee Mishra, Chairperson, OTDC, talked about Tourist Officers being a single window of information for tourists and investors coming to their respective districts. "Tourist Officers need to enhance their knowledge about various tourism elements and assets to promote a bouquet of tourism offerings their district has and Odisha as a whole," she deliberated.
Manjulata Dalai, Joint Director Tourism, thanked the delegates, tourist officers and other eminent tourism experts for taking focused strides towards revival of tourism in the state.
The workshop comprised 5 sessions headed by eminent academicians and experienced professionals from the tourism sector.
Md. Sabir Hussain, Nodal Officer (Head), IITTM Bhubaneswar gave a presentation on the Contemporary Tourism Scenario as per the data and analytics of a global survey conducted by the UNWTO.
Sitikantha Mishra, Dean – cum Advisor, School of Tourism & Hospitality Management, S 'O' A Deemed to be University, Bhubaneswar, presented various strategies the state needs to adopt for quick revival and development of tourism sector. Celebrated Architect and Photographer Shakti Nanda explored the Potential of Nature based Tourism in Odisha.
Jaideep Bansal, Global Himalayan Expeditions stressed on empowering the local communities through sustainable tourism development, skill development and capacity training. He spoke of the role the stakeholders need to play not just for revival but strengthening of the tourism sector.
Jitu Mishra, Co-founder, Sarna Educational and Cultural Services talked about the need of Immersive Organic Tourism Experiences through grassroot entrepreneurship. The workshop ended with interesting Management Games by Adyasha Das, Associate professor and Coordinator-Workshop, IITTM Bhubaneswar.