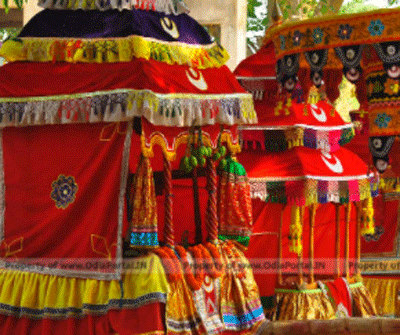 Bhubaneswar: The culture rich State, Odisha has started celebrating one of the biggest Hindu festivals Dola Jatra with pomp and gaiety amid COVID restrictions.
Holi is one of the most visual festivals in the world. Although most associate it with throwing lots of abeer (coloured powder) in the air, its rituals are filled with symbolism. Holi signifies the arrival of spring, the end of winter, and for many, it's a day to meet friends, family and neighbours.
Dola Purnima is a popular festival in Coastal Odisha and some parts of western districts. It is the full-moon day in the month of Falguna (March). Through the festival the spring is welcomed and enjoyed with mirth and merriment. This festival has been referred to in the puranic texts as Basantotsav or the spring-festival.
People took a procession of the idols of Radha and Krishna seated in beautifully decorated Vimans. Amid hundreds of cymbals and gongs beating in unison, and firecrackers, the palanquins of Radha and Krishna were brought on procession to different streets of the locality.
This Dola Jatra is being celebrated in every village of Cuttack, Jajpur, Kendradpada, Dhenkanal, Subarnapur, Boudh, Angul, etc.
The six-day festival known as Dola Jatra begins from the Falguna Dasami day. The idol of village deities, especially of Lord Krishna, is carried to all the homes in the villages on a decorated Veemana (palanquin). The people carrying the idols and those following it are semared with Abira (dry colours).
Some scriptures testify that the Madanotsav, the festival held in honour of Madana or the Cupid, was later transformed as the Dolatsav or swing-festival of Krishna. Therefore, Krishna is propitiated on this occasion as Madanamohana. Description of the festival as Dolatsav finds mention in a number of puranas and other Sanskrit texts.
On the auspicious occasion of Dola Purnima, the four deities inside the sanctum sanctorum of Lord Jagannath temple in Puri are decked up in Suna Besa seated on the Ratna Simhasana.
The Suna Besha is much loved by the devotees as divine siblings are decked in gold jewelry embellished with diamonds and gems taken out from the temple treasury.
On this occasion, Governor Ganeshi Lal, Chief Minister Naveen Patnaik and Union Minister Dharmendra Pradhan greeted the people of Odisha.
Extending his heartiest greetings on the occasion of Dola Purnima, the Governor prayed for the well-being and prosperity of all before Lord Dolagobind.
"My sincere greetings and best wishes to the people of the state on the occasion of the holy month of Dola. May the abundant grace and blessings of Lord Dola Gobinda fill the lives of all with happiness and prosperity," Naveen tweeted.