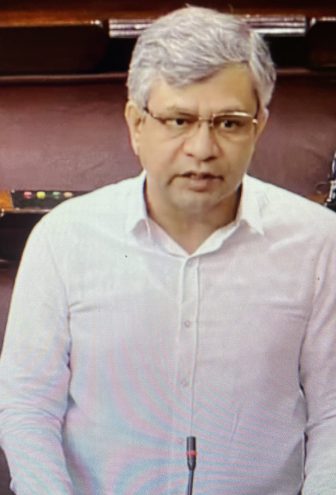 New Delhi: BJP MP Ashwini Vaishnaw said that Odisha will be able to attract Rs.10 Lakh Crore of Investment through Prime Minister's 'Mission Purvodaya' and at least One Crore Job Opportunities can be created in the State.
Mr.Vaishnaw was speaking Mining Reforms Bills presented in the Rajya Sabha here on 22 March and said for Purvodaya, State has to connect its huge Human Resources with Natural Resources.
Speaking elaborately on his Vision on Odisha, Mr.Vaishnaw said that with the huge deposit of iron ore in the state, Odisha will be able to produce 100 Million Tons of Steel and it will attract Rs.5 Lakh Crore of Investment.
BJP MP Mr.Vaishnaw pointed out that while world is producing 50 Million Tons of aluminium, Odisha can produce 10 Million Tons of aluminium with an investment of Rs.50,000 Crore as the State has huge deposit of bauxite.
Similarly by using Beach Sand, Odisha can produce 10 Million Ton of Rare Earth.
Utilizing huge coal resources, Odisha will be able to meet country's growing power requirement.
Mr.Vaishnaw, who served the State as an IAS Officer with various capacities pointed out its talented Human Resources of 4.5 Crore people and its huge natural resources are to be connected for its development.
He said the State Government is needed to enact Laws accordingly so that development process will be expedited.
He rejected the allegations that through the Bill, Union Government is trying to take away the powers of the State Government.
Mr.Vaishnaw giving out an example of speedier disposal of issues at Government of India level, said the Ministry of Mines allocated two failed auctioned mines in favor of State PSU, Odisha Mining Corporation within 20 days of the request of the State Government.
And the Odisha Government has also immediately started production from both the mines, which is an example of "Cooperative Federalism", said BJP MP.
He said this speaks how "Cooperative Federalism" works and taking away the powers of the State does not arise, adding "even a thought like that is not there with Union Government", said Mr.Vaishnaw.