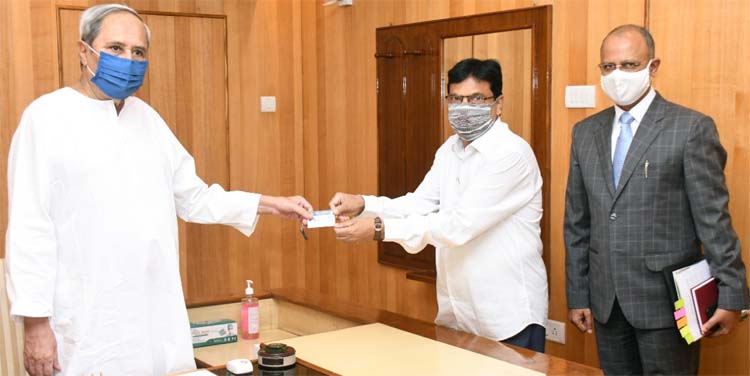 Bhubaneswar: Minister, Finance, Niranjan Pujari Monday presented a welfare, development, investment and transformation oriented Annual Budget for 2021-22 in the Odisha Legislative Assembly with an outlay of Rs.1,70,000 crore, which is about 26 Percent  more than the 2020-21Revised Estimate.
Like previous years, this year also the Budget was presented in two parts – "Agriculture Budget" and "General Budget
The Budget for 2021-22 is presented in Odisha Legislative Assembly in complete electronic form through the National e-Vidhan Application (NeVA).
Odisha is one of the first States in the country to use the NeVA platform for e-budget presentation. This initiative would reduce printing of about 1.5 crore pages of paper and save about 2000 large trees.
The Outlay in the Consolidated Fund through estimated revenue receipts of Rs.1,25,600 crore, recovery of loans and advances of Rs.414 crore and borrowing and other receipts of Rs.43,986 crore.
Total revenue receipts for the year 2021-22 include State's Own tax for Rs.37,500 crore, Own Non-tax revenue of Rs.20,000 crore, State's share in central taxes for Rs.30,137 crore, and grants from Centre for Rs.37,963 crore. The Tax/GSDP ratio would be 6.4 per cent in 2021-22.
The Capital Outlay in 2021-22 is Rs.25,788 crore, which is about 4.4 percent of GSDP.
Additionally, loans and advances, grants for the creation of capital assets, and other expenditure for capital formation together account for Rs.8,379 crore, which is 1.43 percent of GSDP.
Thus, the total investment for capital asset creation would be of the order of 5.83 percent of GSDP, which will help boost the economy.
The Agriculture and allied sector include agriculture, irrigation, co-operation, fisheries and animal resources development.
It is proposed to provideRs.17,468 crore in 2021-22for the sector against allocation of Rs.19,408 crore in previous year under Administrative and Program Expenditure for Agriculture and allied sector.
However, the focus has been laid on increasing farmer's income through non-farm activities. Hence, there is substantial increase in allocation for Fisheries and ARD Department.
However, the total investment for Agriculture & Allied sector from budgetary and off-budget sources would be about Rs.20,000 crore for the year 2021-22.
This time there was Introduction of separate SDG Budget document linking about Rs.1,34,225 crore to 17 SDG goals.
He also introduced Fiscal Strategy Report – First State in the country
Minister made Fiscal Risk Statement making process to improve budget credibility – First State in the country
He brought out Status Paper in Public Debt, an enhanced disclosure and these initiatives will make Odisha a leader in budget transparency and disclosure.
The revenue both at State and Central level was affected during the current year due to the pandemic induced lockdown.
Later Minister Finance Mr.Pujari said that in fact the Odisha Government has taken several innovative steps to bridge the resource gap to ensure that COVID management activities are fully funded.
Some of the important steps taken are Renewal of mining leases to fetch one-time Mining revenue as well as Stamp Duty & Registration Fees, Mopping up of government money parked in bank accounts through continuous monitoring, Emphasis on realization of arrear revenue and Innovative way to avail cheaper sources of financing from dedicated funds (OMBADC and CAMPA)
These steps helped to maintain required liquidity during the crisis period. Besides, the pro-active steps taken by the State in managing the pandemic could keep the impact of COVID under check and the recovery process could be much faster.
In recent months, the State's own revenue collection is showing robust month-to-month growth.
Even at the end of January, 2021, the cumulative collection of own revenue is 7.4% higher than the corresponding period previous year in spite of the impact of pandemic.
The State's economy is showing signs of recovery. He said that the State is expecting a good growth of about 10 Percent by end of the current year and expect similar growth during the FY2021-22.
Minister said that as the State Government have taken cheaper short-term borrowing from OMBADC and CAMPA as well as Open Market, there is higher repayment liability to enhance the total budget size.
The debt stock at the end of December, 2020 is Rs.1,02,593 crore, which is 20.1% of GSDP. By end of 2020-21, the debt stock is estimated to reach to a level of Rs. 1,06,540 crore, which is 20.9% of GSDP.
Own Tax revenue in 2021-22 (BE) is estimated at Rs.37,500 crore with growth of 15.4% over 2020-21 (RE).
Own Non-Tax revenue is estimated at Rs.20,000 crore in 2021-22 (BE), which do not show positive growth over 2020-21(RE) because ofa number of one-time revenues collected during 2020-21.
However, Mining revenue is projected to register a growth of about 10%. Total own revenue is assumed at Rs.57,500 crore.
Minister said that Rs.396crore is allocated as State contribution for KhurdaBolangir, Jeypore-Malkangiri and Jeypore-Nabarangpur new rail lines, payment of compensation towards land acquisition in Nayagarh, Boudh, Subarnapur, Koraput, Malkangiri and Nabarangpur districts.
Apart from contributing State's share in project cost for new Railway lines, Odisha has been providing required land free of cost.