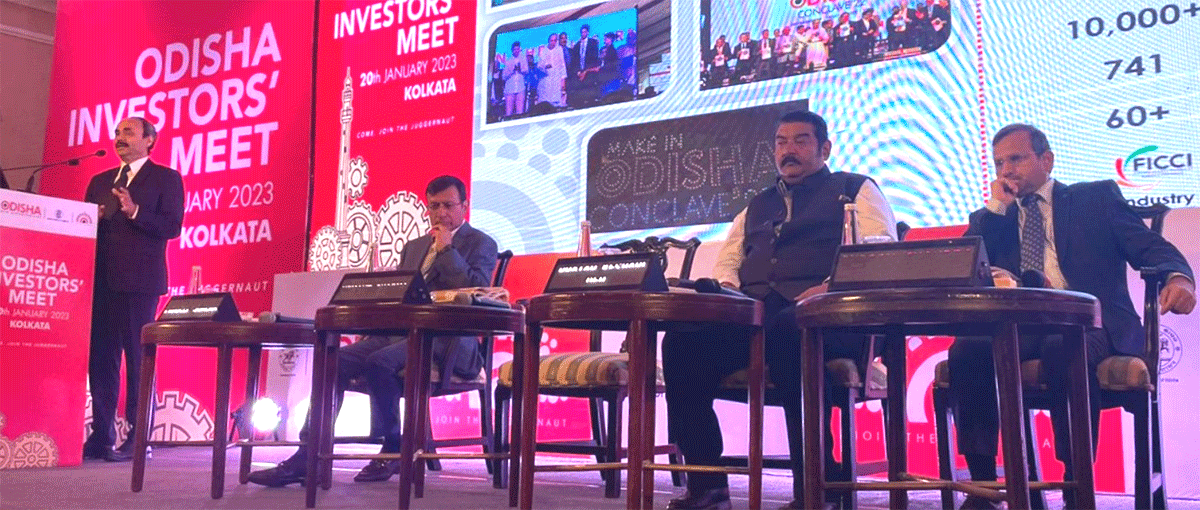 Kolkata: After the massive success achieved in the Make in Odisha (MIO) Conclave 2022, the State Government in collaboration with the Indian Chamber of Commerce (ICC) hosted Odisha Investors' Meet at Kolkata.
The event further shows the government's commitment towards drawing more investment from neighbouring states like Bengal.
The meeting was led by a delegation comprising the Industries Minister Pratap Keshari Deb, Chief Secretary Suresh Chandra Mahapatra and Principal Secretary, Industries, Hemant Kumar Sharma who met some of the corporate captains from Kolkata during G2B meetings held in Kolkata today.
Prior to the MIO Conclave, the government had organized roadshows in Mumbai, Bangalore and Hyderabad and other cities where they had witnessed impressive participation. The delegates were welcomed by Pradeep Sureka, Immediate Past President – ICC.
The meeting powered by the presence of the Minister as well as his bureaucrats ensured response from at least 320 delegates from Kolkata and around 70 closed-door (G2B) meetings with clear investment intent in Odisha.
A video on Industrial Ecosystem of Odisha was screened for all the participating industrialists.
Hemant Sharma, Principal Secretary, Industries Department, took the attendees through a presentation on the business ecosystem of Odisha.
Alongside ministers and government officials, the meet was also graced by industrialists who had previously invested in Odisha and have reaped favorable results.
Illustrious industrialists like Ashish Anupam, Managing Director, Tata Steel Long Products Ltd (TSPL), Dhananjay Sahoo, General Manager – Indian Oil Corporation Ltd, Shishir Jalan, President – Indian Plastic Federation, projected three completely different industry testimonials.
Addressing the esteemed guests, Minister – Industries, MSME & Energy, Pratap Keshari Deb said he was pleased to visit Kolkata and be amongst the most vibrant and entrepreneurial businessmen and women in the country. The city has been the motherland of trade and commerce for generations and has always been a hub of Industrial Manufacturing and Services, he said.
The people of Odisha have been migrating across borders for jobs, education, healthcare, tourism, trade, and other purposes forever. He invited all to come and explore Odisha from an investment perspective.
"I would like to reinforce the fact that Odisha is now ready, our Juggernaut is now flagged-off and we have taken off on a journey towards excellence. Under the visionary leadership and pro-industry approach of Chief Minister Naveen Patnaik, Odisha is becoming a major industrial hub in India, by mastering the art of dovetailing economic prosperity with inclusive growth," the Industries Minister said.
He said Odisha is today becoming a destination of choice for investors across the country. While the metal sector has been an inherent strength of Odisha, owing to our natural resource advantage, the Government of Odisha has taken proactive measures to broaden the industrial ecosystem in the State.
The State has many marquee companies like IOCL, IFFCO, Aditya Birla Fashion, Jockey, Parle Agro, Britannia, and ITC among others, who have set up large manufacturing and service units in the State, attracted by the availability of raw materials, trained and skilled manpower and low of cost of doing business in the State, the Minister further said.
Stating that Odisha is India's Best Kept Secret, he said, "I can see that as the secret is being revealed gradually, the Tourism Industry is going to expand manifolds. This is a great opportunity for businesses to establish Hotels, Resorts, Hospitality Facilities and other Infrastructure at tourist locations across Odisha."
The food-processing sector is also a focus sector for the State. In terms of logistics and connectivity, with a 480-km long coastline, and 3 large ports at Paradeep, Gopalpur and Dhamra, Odisha is connected to the global shipping lanes and is the gateway to new markets in South and East Asia.
He informed the investors that Odisha is also a power-surplus State and has an abundance of water resources. "In terms of the provision of utilities for investors, we can claim we are one of the best in the country. So, once again, I would like to invite all the industry leaders to come to Odisha, the land of Lord Jagannath and the emerging Industrial hub of India. We invite you to be our partner in this glorious and inclusive development story," added Shri Deb.
Chief Secretary Suresh Chandra Mahapatra said, from a predominantly agrarian economy to being the Industrial Hub of the East, the past two decades have been the story of the rise of Odisha, a rise that's yet to hit its peak.
The State, with continuous support from its industry partners, has been able to build a robust industrial infrastructure and a flourishing industry setup.
"Today we are joined by leaders and entrepreneurs from sectors like Metals, Chemicals, Plastics, Petrochemicals, Textile & Apparel, and Tourism among others. These traditional sectors, along with multiple New Age Sectors are being actively promoted by my government," Mahapatra said.
He said that the State is taking further steps for value addition in these sectors. One such initiative is the Skilled in Odisha program, which has become a brand in itself.
The Chief Secretary said the state is looking at broad-basing the industrial presence and driving sustainability of the industrial landscape. As many as 20 sectors have been identified under priority and thrust sector categories in the IPR 2022, which means the State is ready to host and accommodate all futuristic industrial establishments.
Also, he added, the government is taking pioneering policy measures for promoting Green Industrial Practices and Decarbonization of the Manufacturing processes by polluting industries.
Kalyan Charan Mohanty, Executive Director –IPICOL urged everyone to explore Odisha for future investment and expansion plans. He also assured all of the continuous hand-holding support from the State Government, from allocation of land to getting necessary clearances to providing factory gate availability of power and water, and also ensuring a successful operation post setting up in Odisha.