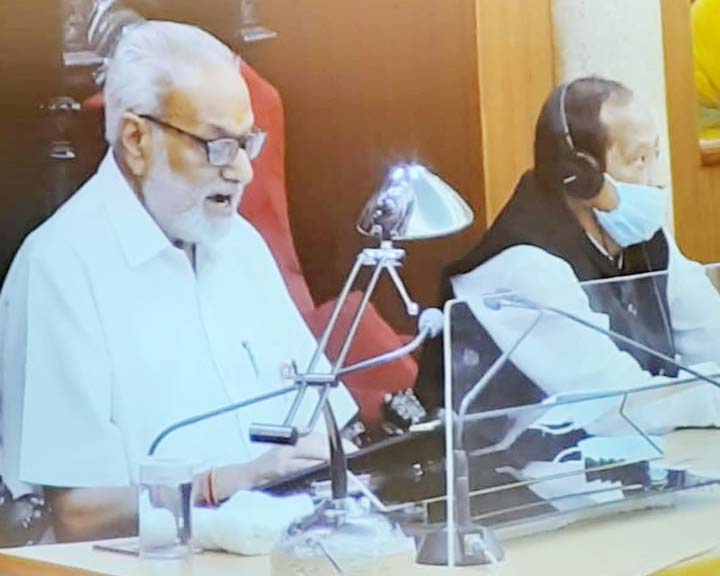 Bhubaneswar: In order to enhance Fiscal Stability and Budget Performance Odisha Government has taken up a series of reforms in Public Financial Management based on Global Best Practices.
Governor Prof.Ganeshi Lal has said while addressing Odisha Legislative Assembly while inaugurating Budget Session of the House.
He said these reforms include the introduction of a Medium-Term Fiscal Framework (MTFF) with a three-year outlook on State Finances, introduction of the strategic budget-making process, bringing out monthly and quarterly fiscal analysis reports, disclosure of budget documents and advance communication of a realistic budget ceiling to all Departments for formulation and prioritization of their Budget proposals within the ceiling communicated.
They are intended to enhance fiscal sustainability and improve budget performance by strengthening medium-term fiscal planning and improving budget transparency.
Online processing of bills by Treasuries was facilitated during the lockdown period of COVID-19 without waiting for receipt of physical Bills.
Implementation of Single Page Pay Bill was strictly followed which downsized the voluminous salary bill and thereby reducing the chances of being exposed to a huge quantity of paper documents and its human carrier.
Global Allotment system was introduced in respect of salary and personal advances to ensure timely disbursement of monthly salary to employees during the Covid-19 pandemic.
Guidelines and Standard Operating Procedure were issued for the virtual working of Treasuries to provide uninterrupted services in the crucial juncture of lockdown.
My Government introduced digitally signed Electronic Authorities for Pension and other pensionary benefits to avoid delay in despatch and disbursement.
A special arrangement was made for the disbursement of pension/family pension in treasuries without physical appearance of pensioners at the time of disbursement of their first pension.
Submission of a life certificate once a year by pensioners to their pension disbursing authority is essential as per the codal provision, said Prof.Lal.
To avoid the exposure of old age pensioners to the pandemic, the timeline for submission of the Life Certificate was extended from 21 November 2020 to May 2021. The bulk disbursement facility available in IFMS was used frequently for DBT amid COVID restrictions.
Odisha Government has been able to plough back about ₹2,800 crore through mopping up of Government money parked in bank accounts.
One Time Settlement (OTS) schemes have been introduced for the realization of arrear revenue in respect of major tax and non-tax items of the State's resources.
My Government has been able to collect its revenue amounting to ₹38,760 crore by the end of January, 2021 which is about 7.3% more than the collection during the corresponding period of the previous year.
Despite the severe impact of COVID-19 on revenue, the State has been able to achieve positive growth in its own revenue which is an indication of recovery in economic activities in the State.
The COVID-19 pandemic posed a unique challenge to Odisha's public finances.
The crisis resulted in shrinkage in fiscal space which compelled my Government to reprioritize its public spending to meet the higher demand for spending on COVID management, creating livelihoods opportunities, promoting agriculture as well as the Industries & MSME sector for employment generation.
As a temporary measure, the corpus of the Contingency Fund was enhanced from ₹400 crore to ₹2,000 crore to provide the required fiscal space for aggressive COVID response.
My Government has also adopted an innovative way to avail cheaper sources of financing from surplus cash balance in dedicated funds, like CAMPA and OMBADC to maintain required liquidity during the crisis period. As a result, funds could be made available at around 150-200 basis points cheaper than the Open Market Borrowing.
My Government has also exercised the option for repayment cost of Open Market Borrowing for ₹2,500 crore out of the corpus of Consolidated Sinking Fund which has provided the State the much-required liquidity during the crisis.