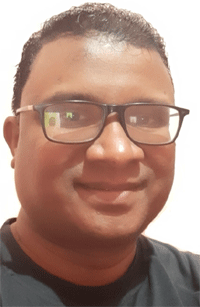 Sanjib Kumar Karmee, Principal Scientist of Sardar Patel Renewable Energy Research Institute (SPRERI), Anand, Gujarat, India is adorned the most coveted list of "WORLD RANKING OF TOP 2% SCIENTISTS" among Indian subcontinent as per a subject-wise analysis conducted by a team of scientists at Stanford University, led by Dr John PA Ioannidis. Dr Karmee's worldwide rank in Biotechnology discipline is 726 and C-score is 3.207. He is among the top 1.442%.  The database entitled "Updated science-wide author databases of standardized citation indicators" has just been published in one of the reputed journals PLOS Biology on the 16th October, 2020 (https://doi.org/10.1371/journal.pbio.3000918). The Stanford University scientists have created a database of over 100,000 top-scientists of the world on the basis of different standardized citation indicators, namely, information on citations, H-index, co-authorship and a composite indicator.
All of these scientists were classified into 22 scientific fields and 176 sub-fields. SCOPUS data provided by Elsevier was used for analyses purposes, with data freeze as on May 6, 2020. Subject-wise ranking of top 2% scientists from India (all fields) is available online: http://shorturl.at/bdix8.
The database shows the rank of all esteemed scientists. The databases and codes are freely available in Mendeley.Dr Karmee earned a PhD from IIT Madras in 2006 . His PhD research was on the preparation of biodiesel and value added products from bioresources. Subsequently, Karmee worked as a postdoctoral fellow at the RWTH Aachen University, Germany and at the Delft University of Technology, The Netherlands.
The institutions where he has held appointments include: National University of Singapore, City University of Hong Kong and North-West University, Potchefstroom, South Africa. He joined the Sardar Patel Renewable Energy Research Institute (SPRERI), Anand, Gujarat, in 2018 as a principal scientist and currently heading the Thermo-chemical Conversion Division.Dr.Karmee is a native of Tebhapadar, Subarnapur district, Odisha. His father's name is Biswanath Karmee (retired teacher) and mother's name is Kamalini Karmee.Detailed information:https://docs.google.com/spreadsheets/d/1mMonq947bS3KcMhsDpf_5z3H46My2t1k_7B3McozA68/htmlview?usp=gmail&gxids=7628