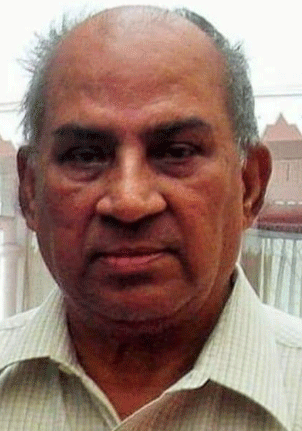 Bhubaneswar: Noted Writer, Thinker and Offset Printing Press Personality, Braja Sundar Mohapatra passed away at the age of 86 years due to prolonged illness, family sources said.
Born on 29 November, 1935 at Biranarasinghpur Sasan in Puri District, Mohapatra is survived by his wife Sushma Mohapatra , four sons Partha Sarathi Mohapatra, Biswajit Mohapatra, Souvagya Mohapatra and Debasish Mohapatra, Daughter Subhalaxmi Mohapatra, Son-in-law Sampurnananda Mishra and 10 Grand Daughters and Sons.
Daughter In Laws played a major role in taking care of the ailing Father In Law. They are Anuja Mohapatra. Bidyutprabha Mohapatra, Tulisikha Mohapatra and Smrutichhanda Priyadarshini.
Mohapatra started his career in Odisha Government Press, where he superannuated in 1993 as Senior Deputy Director. He earned lot of reputation in the field of Offset printing during his tenure at Odisha Government Press with his valuable contributions.
Mohapatra continued his literary pursuit and used to write for several popular magazines and authored several books. He was also associated with Odisha Doordarshan for various developmental work for promotion of Odia literature.
Way back in early 50's he came to lime light with his writings in various magazines with a Pen Name 'Sundar Bhai'. He was popular for his writings and oratory when he used to write in various magazines and coverage in All India Radio.
His writings were very popular among the children and it used to ignite their mind with positive energy. For his quality writings, he has been honored by Sishu Sahitya Sansad, a leading organization for promotion of child literature.
In a tragic incident 2010 he suffered spinal injury and was taken care by his family, which stood by him in his darkest hours.
With utmost care and affection of his sons, daughter, daughter in laws and son-in-law, he survived for long.
Last rites were performed at Swarga Dwar and his eldest son, Partha Sarathi Mohapatra, lit the pyre.
Ceremony was organized with COVID Protocol and all his family members were by his side during all these days.