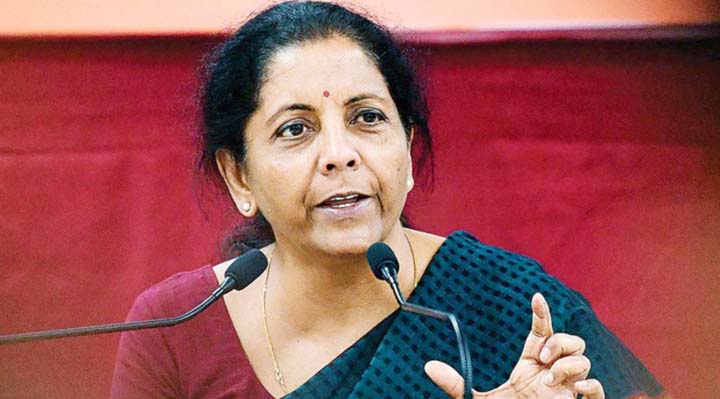 Bhubaneswar: Once again the Government of India has rejected Odisha's decade-long demand for Special Category Status (SCS) as it faces natural calamities almost every year.
Speaking to media persons here on Friday, Union Finance Minister Nirmala Sitharaman said no more special category status will be given to Odisha or any other State, as per the recommendation of the Finance Commission.
"The Finance Commission has said no special status can be given. However, it was considered for Andhra Pradesh and Telangana during its bifurcation," she said.
The Union Finance Minister was here for Post-Budget interaction with industry and press. She also commented on the concerns raised by Chief Minister Naveen Patnaik on reduction of funds in the Union Budget for MGNREGA and paddy procurement.
The fund allocation for Mahatma Gandhi National Rural Employment Guarantee Scheme (MGNREGA) has not gone down. It is a demand driven scheme and as and when the demand increases, the Centre provides money, said Union Finance Minister Nirmala Sitharaman here on Friday.
Addressing a post-budget press conference here, Shrimati Sitharaman said, "Budget time allocation is one thing…..and the scheme itself is a demand driven scheme, as and when demand increases, we provide funds for it. This has been done in past years since 2014."
"If you look into the past years, we have added some money in the supplementary budget for MGNREGA. Even during Covid pandemic, the allocation for the scheme has crossed Rs 1 lakh crore," she said.
"We make an allocation during the budget estimate and throughout the year. As and when the demand goes up, we revise it and in the supplementary grants, we add more. This is in contrast with what happened between 2004 to 2014," said Shrimati Sitharaman.
Notably, against Rs 73000 crore allocation in the budget estimate (BE) of 2022-2023, the current allocation reduced to Rs 60,000 crore.
"So, to look at the budget time figure and to say that you brought it down is not right. It develops as the demand develops and we keep giving it as the demand develops and by end of the year we also ensure it gets spent," she added.
Commenting on funding for procurement of wheat and rice, she said that the government has not brought it down at all.
Shrimati Sitharaman said the total amount given to the farmers is very high as the minimum selling price has gone up. "The total amount spent on procurement is at an all-time high now. You can be sure there is no coming down in these figures," she said.
"The quantum of procurement in the eight years compared to any time prior has gone up. And because the minimum support price (MSP) rate is high, the total amount given to farmers after procurement is also very high," said the Finance Minister. "Total amount spent on procurement is all high now," she added. She also said there is no shortfall of fund for Ayushman Bharat yojana.
The Finance Minister also made it clear that the Centre is not going to make any disinvestment in its PSU Nalco.
Tuhin Kanta Pandey, Secretary of the Department of Investment and Public Asset Management (DIPAM), said the Centre's divestment aim follows a calibrated strategy and "we do not want to distort the market. Divestment should be realistic."
When asked about the exposure of public sector banks to Adani Group companies, Shrimati Sitharaman said, "SBI had already given a statement on its exposure. You have heard it from the horse's mouth."
She also said that the Securities and Exchange Board of India (SEBI) does not report each and every matter to the Centre. "The matter is being heard via PLA in court today, so maybe it's not right for me to comment," she said.
Finance Secretary T.V. Somanathan said a token amount of money has been provisioned in this budget for the Pradhan Mantri Ujjwala Yojana because the scheme has reached to its saturation. Target set by the ministry has been achieved, he added.