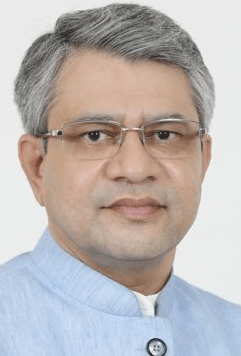 New Delhi: The Ministry of Railways has not sanctioned any fund for the construction of Bansapani-Barbil rail line project, said Union Railways Minister Ashwini Vaishnaw here on Wednesday.
Giving a written reply to a question asked by BJD MP Achyutananda Samanta, the Union Minister said, Bansapani-Barbil rail line project has been identified by Odisha Rail Infrastructure Development Limited, a Joint Venture Company of Government of Odisha (51%) and Ministry of Railways (49%) for development under Joint Venture Model.
The Ministry of Railways has accorded in-principle approval to this project for taking up pre-investment activities subject to 100% funding of the project by Government of Odisha. However, this project is not yet sanctioned, he said
Notably, a rail project to connect Barbil station with the Barsuan and Kharagpur-Rourkela main line was placed in the 2016-17 Railway budget. Proposed to be implemented in SPV mode, the project was included in Odisha Rail Infrastructure Development Ltd. However, it is yet to make any progress.
The Union Minister also clarified that no fund had been provided for the project during the financial year 2016-17 too, he said.
This project will reduce the distance between Barbil and the steel plants in the Kalinga Nagar area of Odisha.
In March this year, the State Government had proposed to utilize funds from the District Mineral Foundation (DMF) of Keonjhar to complete the Bansapani-Barbil new rail project, which has been hanging fire for the last five years due to financial constraints.
The Commerce and Transport Department had requested Keonjhar Collector, who is also the managing trustee of DMFT to consider the new rail line project for funding from DMF.
The proposed rail line will provide direct connectivity to iron ore loading stations on Noamundi-Bolani section to Bansapani under Chakradharpur division of South Eastern Railway (SER) for onward movement of minerals to steel plants and ports of the State for export.
Informing about the delay in execution of Digha-Jaleswar (41 km) new line project, which was sanctioned in 2010-11, the Minister said the anticipated cost of the project is Rs 1584 crore.
"The execution of the project could not be taken up as the State Government of West Bengal has not taken up land acquisition in the West Bengal portion," he informed.
Completion of any railway project/s depends on various factors like quick land acquisition by State Government, forestry clearance by officials of forest department, shifting of infringing utilities, statutory clearances from various authorities, geological and topographical conditions of area, law and order situation in the area of project/s site, number of working months in a year for particular project site due to climatic conditions, etc. Mr.Vaishnaw said.  
All these factors vary from project to project and affect the completion time of the projects. As such, no confirmed timeline of completion of the project/s can be ascertained at this stage. Nevertheless, Railways are making all efforts to complete these projects at the earliest, he added.