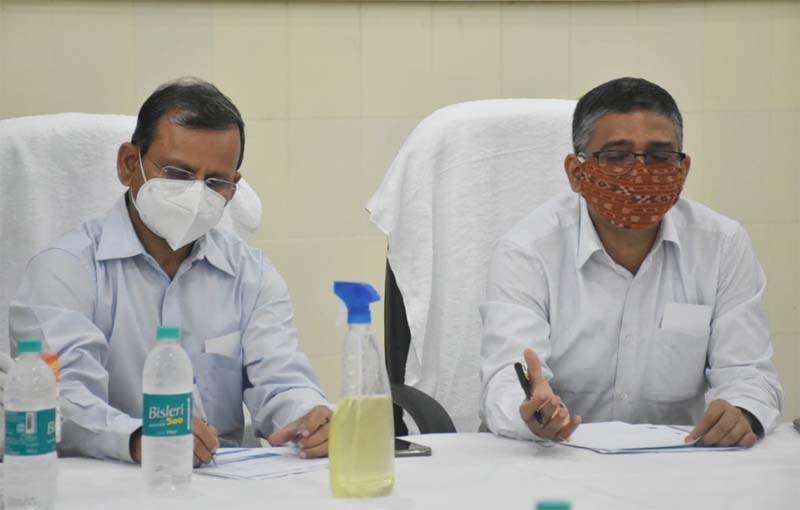 Bhubaneswar: In view of the resurgence of the Coronavirus pandemic, Top Mandarins rushed to Western Odisha to take stock of COVID-19 Pandemic situation.
Chief Secretary Suresh Chandra Mahapatra, Additional Chief Secretary of Health & Family Welfare, Pradipta Kumar Mohapatra and other senior officials visited the districts.
Director Medical Education and Training and Director Health Services accompanied the Team to review preparedness for containing Covid-19 in four western Odisha districts.
Mr.Mahapatra took stock of the field situation regarding the availability of beds, ICUs, medicines and other treatment facilities in the districts of Sambalpur, Sundargarh, Jharsuguda and Bargarh.
While the Chief Secretary and his team visited Burla and Rourkela, he had detailed discussions with the Collectors of Jharsuguda and Bargarh districts over the COVID-19 Pandemic situation.
"First we reviewed VIMSAR, Burla in Sambalpur district, later we had detailed discussions with the Collectors of Jharsuguda and Bargarh and now we just completed a review meeting here," informed Mr.Mahapatra briefing reporters at  Rourkela.
The Chief Secretary said that around 525 bedded Covid facility with 100 ICU beds is being created.
"Out of the 305 beds available at J P Hospital in Rourkela 250 beds are being utilized for Covid facility. It has 100 ICU beds. That apart, Shanti Hospital at Rourkela which was converted to a dedicated Covid Hospital last time has been activated. Currently, 80-90 patients have been admitted to this hospital and are undergoing treatment," he informed.
Covid facility like last year will be activated at Hitech Medical College, Rourkela within two days, he added.
The Chief Secretary said that a 1,000 bedded Covid Care Center with oxygen facility will be readied in Sundargarh district soon.
He stated that arrangements are underway at the new medical college being set up by NTPC at Sundargarh for accommodating 400 patients with oxygen facility and added that it has already become functional.
Mahapatra said that enforcement activities for ensuring Covid appropriate behaviour will be strictly enforced by the police, district administration and municipal authorities in Rourkela city in addition to sensitizing people through miking etc.
"Attention will be paid at checkpoints in the border areas to ensure that no Covid positive patient enters the State. RT-PCR negative report shall be strictly insisted upon for entry into Odisha. On non-production of RT-PCR negative report, the person will have to undergo 7 days quarantine," the Chief Secretary said.
Wherever required micro containment zones shall be created, he said.