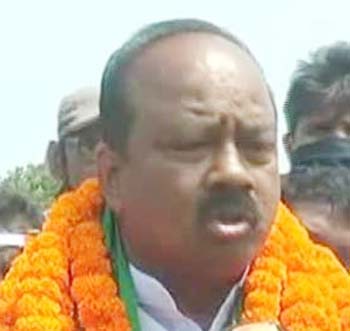 Bhubaneswar: Ajit Mangaraj, Congress candidate for Pipili bye-Poll passed away here on Wednesday during treatment for COVID-19 infection. He breathed his last at Apollo Hospital.
The 52-year old Congress leader was admitted to Apollo Hospital last week.
Mr.Mangaraj was admitted to the Apollo Hospital on 7 April after being diagnosed with severe COVID-19 pneumonia.
"The patient was under treatment of a multidisciplinary team of doctors from specialities including Critical Care, Cardiology and Pulmonary Medicine in COVID ICU where all necessary life saving support including Non invasive ventilation was extended to save the life of the patient. However after bravely battling the severe COVID infection for past 8 Days, Mangaraj succumbed to the disease at around 4.00 PM on April 14," the Apollo Hospitals, where he was admitted, said in a statement.
Following untimely demise of Pipili bypoll candidate Ajit Mangaraj, the leaders cutting across the party line expressed their condolences on passing of the Congress leader.
"I am saddened to hear about death of Congress candidate Ajit Magaraj, who was contesting the bypoll to Pipili Assembly Constituency. My condolence is with bereaved family of the leader," said Chief Minister Naveen Patnaik.
"Ajit Mangaraj was a close aide to me and a man of positivity by nature. It was unbelievable that he is not with us," said Union Petroleum & Natural Gas Minister Dharmendra Pradhan, who visited the hospital soon after the news broke in media.
Union MSME Minister Pratap Chandra Sarangi also expressed his grief over departure of senior Congress leader. He expressed his condolence to family and relatives of the departed soul.
Saddened by sudden demise of Mr.Mangaraj ahead of bye-poll to Pipili Assembly Constituency, Odisha Pradesh Congress Committee Niranjan Patnaik said, "Ajit Mangaraj was a hard working and was popular among the mass in Pipili as the strong organiser. He contracted the COVID infection during election campaign."
Remembering Mr.Mangaraj's contribution to Congress, Senior Lawmaker, Santosh Singh Saluja said, "He (Ajit Mangaraj) had accompanied me during campaign for Balasore bye-poll. I am saddened by his death. It was a bad luck for Congress."
His condition was stated to be critical. However, the doctors were assuring that the leader will recover and will be discharged very soon. An hour before his death, I was campaigning for him in Pipili. It's very sad to hear that he is no more, said Congress leader and former parliamentarian Pradeep Majhi.
Meanwhile, the by-election scheduled for April 17, is being postponed following the death of Mangaraj, said sources at the Chief Electoral Office Odisha
Chief Electoral Officer Sushil Kumar Lohani has sought a report from Puri Collector after which a formal declaration about the postponement will be made, the sources said.
Fresh dates for the bye-poll seat will be notified later.
Campaigning for the by-poll was scheduled to end tomorrow, but as soon as the news of Mangaraj's death broke out, a poll of gloom descended in the area.
As many as 10 candidates were in the by-poll battle for the Pipili Assembly constituency. Rudra Pratap Maharathy of BJD and Ashrit Pattnayak of BJP had also filed their nominations.
Mangaraj had unsuccessfully contested on a Congress ticket from Pipili Assembly seat during 2019 general election.
Notably, on October 4 last year, Pipili MLA Pradeep Maharathy had passed away necessitating a bye-poll to the Assembly Segment.