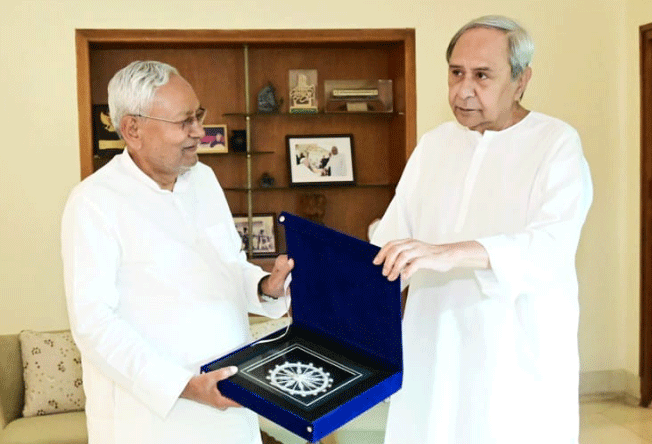 Bhubaneswar: Bihar Chief Minister and JD(U) Veteran, Nitish Kumar met his Odisha counterpart and Biju Janata Dal (BJD) President Naveen Patnaik here at Naveen Niwas on Tuesday. Both the Chief Ministers have lunch together. However, no discussion was held about forming an alliance.
"I am delighted that Nitish Ji is here in Bhubaneswar. We are old friends and colleagues. We have served together under the Vajpayee Government. We were discussing allocation of land in Puri for tourists from Bihar," CM Patnaik said.
The Chief Minister said 1.5 acres of land will be given to the Bihar Government at Puri free of cost for the Bihar tourists and pilgrims, who come to visit the temple of Lord Jagannath.
"No discussion was held about any alliance today," he clarified when media persons asked about BJD's joining in the possible alliance of anti-BJP parties.
"Glad to meet #Bihar Chief Minister Shri @NitishKumar in #Bhubaneswar. #Odisha shares a special bond with Bihar and the people of the neighbouring state. Hope he had a pleasant and fruitful stay in Odisha," Shri Patnaik tweeted sharing few pictures of the meet.
Nitish Kumar said he has an old relationship with Naveen Patnaik and his father Biju Patnaik. "I was frequently meeting Naveenji. However, due to Covid-19 pandemic, I was not able to meet him. So, I wanted to meet him," the Bihar CM said.
When asked about whether there was any political discussion between the two top leaders, the JDU leader, with a smiling face, replied, "Don't worry about political things. We have such a strong relationship, there is no need to think about political issues and, also, don't compare it with any others."
The Bihar CM and JD(U) Veteran had recently announced that he would travel across the country to unite opposition parties ahead of the Lok Sabha polls next year.
He has already met Congress leader Rahul Gandhi, Delhi Chief Minister Arvind Kejriwal, West Bengal Chief Minister and TMC chief Mamata Banerjee, Samajwadi Party president Akhilesh Yadav, and Left leaders Sitaram Yechury and D Raja.
In March, West Bengal CM Mamata Banerjee had met Naveen Patnaik. During that time also, both the leaders have denied any discussion on formation of a third front or any alliance. However, they had advocated for strengthening of federal structure in India.
Following the break-up of the BJD-BJP coalition government in 2009, the Naveen Patnaik-led BJD has been maintaining equal distance from both BJP and Congress. Besides, it is not much interested to be involved in national politics. The regional party always says its focus is on the interest of Odisha and its people.