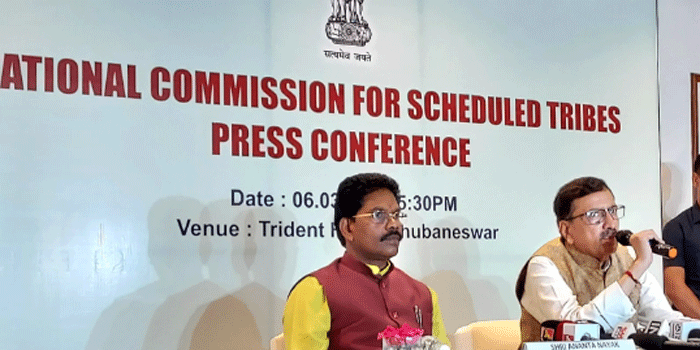 Bhubaneswar: National Commission for Schedule Tribe (NCST) has asked the State Government to submit its Detailed Report on various issues relating to development of tribal population within a period of one month.
The Commission led by Chairperson Harsh Chouhan along with Member Ananta Nayak, Secretary Alka Tiwari and other team members on Monday held a State-level review meeting with the State Government officials here.
Chief Secretary Pradeep Kumar Jena along with all Heads of the Departments were present in the meeting. Secretary SCST Development Roopa Roshan Sahoo presented details in the Meeting,
The objective of the meeting is to review the implementation of Constitutional and Legal Rights, review of socio-economic development and safeguards of the Scheduled Tribes in the State.
After conducting the review meeting, the Commission found that the State Government on urgent basis require to address the issues relating to diversion and non-utilisation of STC funds which has been reserved for welfare of the Scheduled Tribes in the state of Odisha under various heads,
It also found long terms delays in rehabilitation of the project affected tribals, land displacement and long term pendency of compensation amount to the tribals those who are displaced under various projects including Industrial, dam, irrigation and other developmental projects specially in the areas of Keonjhar District, financial frauds and atrocities against STs, deficiency of doctors, paramedic staff and other medical infrastructure facilities in tribal areas.
The chairperson expressed dissatisfaction over non-formation of a separate department to look into the welfare of tribals, like at the Centre.  Shri Chouhan said the Commission will send a proposal to the Odisha Government in this regard.
The Commission found that absence of basic amenities like water, road, electricity which are necessary, poor job opportunities in PSUs, extremely poor telephonic connectivity in tribal areas and other Government services for STs.
It is observed the conditions of boys and girls in residential hostels and schools.
The Commission has suggested that to make PESA Rule for implementation of PESA Act in state. As per government reply it is found that the large number CFRR are rejected at large extent and the Government is again reconsidering the rejected Forest Rights.
Action is needed to be taken against the officials and the person who issued and received the fake and/or false Scheduled Tribe Caste Certificates.