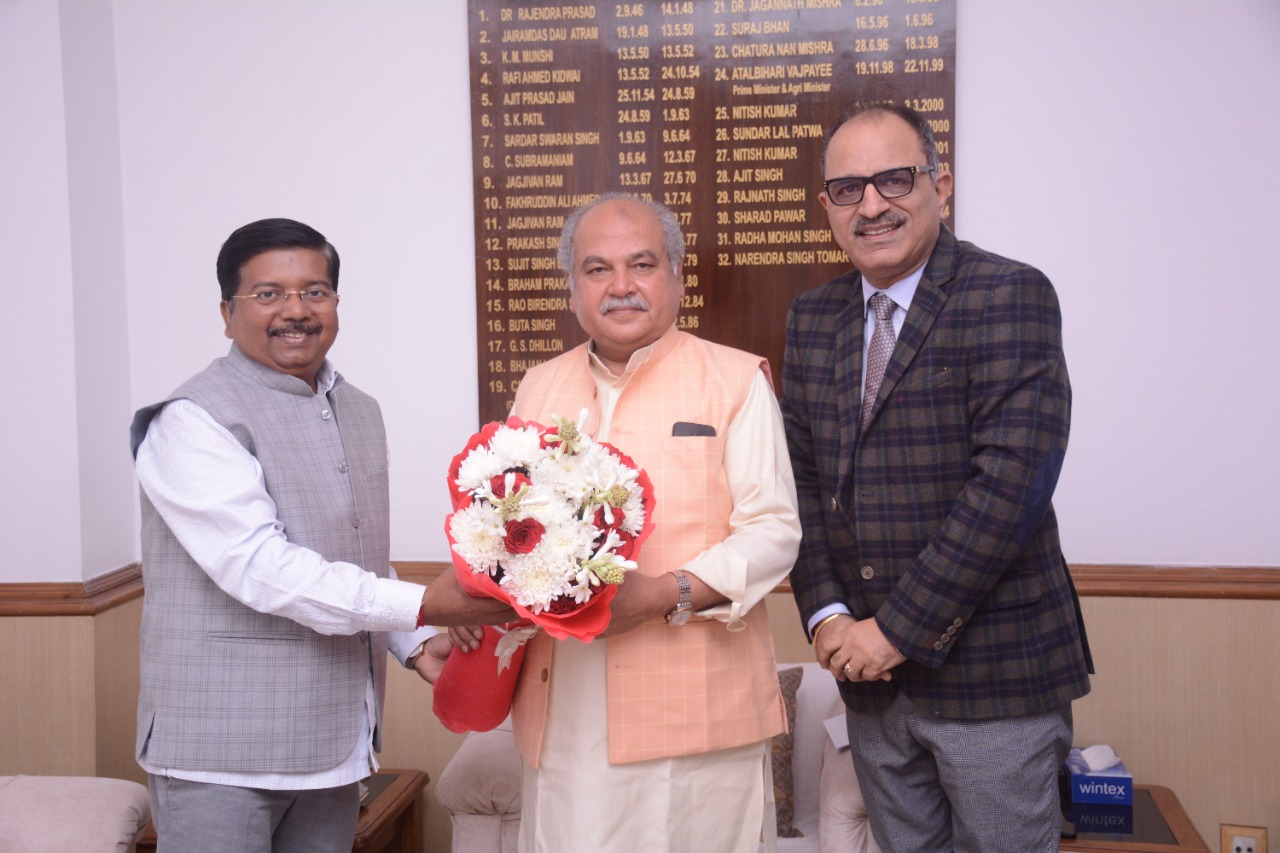 New Delhi: Ahead of Padmapur by-poll, Cooperation Minister Atanu Sabyasachi Nayak on Wednesday sought personal intervention of Union Minister for Agriculture & Farmers Welfare Narendra Singh Tomar for early settlement of pending claims under Pradhan Mantri Fasal Bima Yojana (PMFBY).
Mr.Nayak met the Union Agriculture Minister in New Delhi today and raised this demand, which is a big issue in Bargarh's Padmapur area, where the by-poll will be held on December 5. Secretary Cooperation Sanjeev Chadha accompanied Minister.
Being a calamity prone State, for Odisha, PMFBY is perceived as a major mechanism of risk mitigation for farmers of the State in addition to input assistance provided under NDRF/SDRF norms.
Accordingly, the State Government has been implementing the programme in letter and spirit since 2016. Various technological interventions too have been taken to streamline the scheme implementation.
It is noteworthy to mention here that in spite of the rising burden of premium subsidy, the State Government has always stuck to the prescribed timelines as far as payment of premium subsidy to Insurance Companies is concerned, Mr. Nayak said.
During Kharif 2021, he said, the Insurance Companies had raised objections to the conduct of Crop Cutting Experiments for Paddy in 263 Insurance Units (Gram Panchayat/Urban Local Bodies) thus holding up the claims of the farmers.
After intervention by the State Level Committee, claims were released only for 38 Insurance units. Although the State Government had done a detailed analysis of all contested cases but for the rest 225 Insurance Units, the Insurance Companies have appealed to the Technical Advisory Committee (TAC) of Government of India against the order of the State Government, the Cooperation Minister pointed out before Mr.Tomar.
Out of 225 cases, the TAC has taken up the cases for 189 cases and the meeting of TAC has already been held on November 3, 2022 and final report is awaited, he said.
"The delay in claim settlement has badly affected the farming operations and farmers who were just trying to recover from the shock of Covid-19 pandemic, " said Mr.Nayak, adding, it has also created a consistent law and order problem in many districts.
One of the resultant effects of delayed claim settlement is decline in enrollment of farmers under PMFBY during Kharif 2022. Against 12.29 lakh farmers enrolled in Kharif 2021 for 10.50 lakh ha area, the number has come down to 11.49 lakh for 9.58 lah ha in Kharif 2022, he further pointed out.
Taking part in the TAC meeting, based on factual considerations, the State Government had made certain propositions with regards to yield estimation methodology adopted by the Technical Agency i.e Mahalanobis National Crop Forecast Centre (MNCFC).
In order to safeguard the interest of the farmers, he urged the Union Minister to direct the TAC to consider the proposed view of the State Government and accordingly submit the report early.