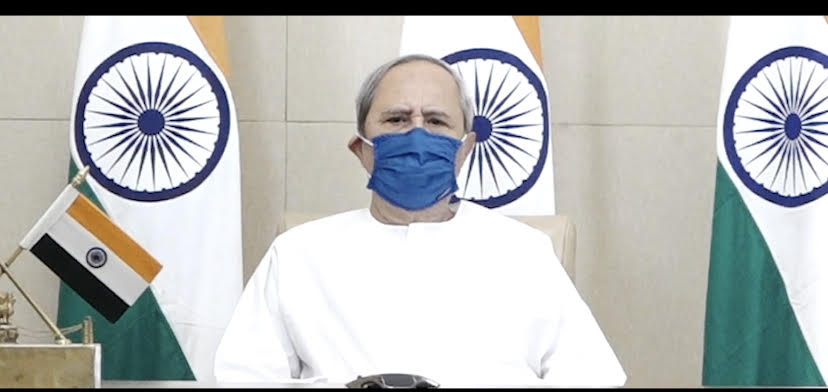 Bhubaneswar: Chief Minister Naveen Patnaik Tuesday advised officials to reach out to local communities, panchayati raj institutions and associations in urban areas to reach out to people in the fight against Covid-19.
Mr.Patnaik said many districts in Odisha have witnessed a huge rise in Covid cases in the last month.
"However, with the hard work of all the Covid warriors and the cooperation of the people of our State, we have been able to manage the situation, but the challenge is huge and the battle is long," the Chief Minister said during a review meeting with Chief Secretary, DG Police, Collectors, and SPs,
He said to further slowdown the infection rate, State Government has imposed a lockdown for two weeks. So far, the lockdown enforcement has been going on well, however, there is still scope for improvement in some places, he added.
"Our successful model of disaster management is based on community involvement and that is the sustainable way to face a pandemic as well. Involve local communities and various associations in urban areas and PRIs in rural areas to effectively reach out to people," the CM said.
Mr.Patnaik said that Odisha Government is one of the very few Governments that is providing testing to treatment, food, accommodation, medicines everything free of cost to the people.
"This has helped people cutting across economic strata, especially the poor to fearlessly avail themselves treatment in the best facilities. It's a huge resource allocation for the government and I would like each one of you to ensure quality in services to the people," the Chief Minister said and added, "We have been taking feedback of patients under Mo Sarkar and will continue to do so."
Mr.Patnaik stressed fire safety and medical oxygen logistics.
"These should be a top priority for district teams and monitored round the clock," he said.
Mr.Patnaik also laid emphasis on testing, tracing and containment in full swing with special focus on vulnerable areas; taking direct feedback from doctors who are manning the ICUs and HDUs and act on their suggestions, making vaccination program a top priority with fool proof arrangements, taking care of the elderly, women and other vulnerable sections during the vaccination drive.
He said, "We are trying our best to mobilse adequate vaccines at the earliest possible time," and added that a close watch is needed to be kept on private hospitals treating covid patients.
"They must charge within the ceiling fixed by the government. In case of any lapses, strict action should be taken against the hospital management," he asserted.
Helplines in Covid hospitals should be strengthened and families must be informed of the patient status regularly and CMRF funds be used to help people in distress during this difficult time, he directed.
Mr.Patnaik said vaccination will be our main strategy to control the pandemic in future and bring back normalcy in the State.
"Till then we have to be extremely cautious. I once again sincerely appeal to the people of Odisha to wear masks, wash your hands regularly, maintain social distance and stay at home unless its absolutely necessary to go out. Please follow the Lockdown restrictions and cooperate with the administration," the Chief Minister said.
Chief Secretary Suresh Chandra Mohapatra said that steps had been taken to improve treatment at Covid Hospitals as per the Chief Minister's directive.
He said Covid observers are monitoring the situation and the oxygen system is monitored 24 hours a day.
More ICUs and ventilator beds have been set up at Covid Care Centers, and steps are being taken to increase the number of beds, he added.
Additional Chief Secretary, Health & Family Welfare, PK Mohapatra in his presentation on the Covid situation said that India now has 54 per cent of the Covid infections worldwide.
The national death rate (CFR) is 1.08, while in Odisha it is 0.40.
"Apart from Khordha and Cuttack districts, there are more positive cases in the districts along the Chhattisgarh border," he said and added that Odisha currently has a test positive of 20.2 for the last 15 days.
Informing about the availability of oxygen in Odisha, he said that the state currently consumes 52.4 metric tonnes of oxygen per day. He also spoke about the availability and use of vaccines in the state.
Director General of Police Abhay, briefed on the steps taken by the police to comply with the Covid rules and said that Rs 28.71 crore has so far been collected as fine from people violating the Covid rules.
The Director General of Fire Services M Akshya informed about the steps being taken in relation to fire control in various Covid hospitals.
Collectors and Civic body authorities informed about the management of Covid in Sambalpur, Bargarh, Puri, Cuttack and Bhubaneswar.