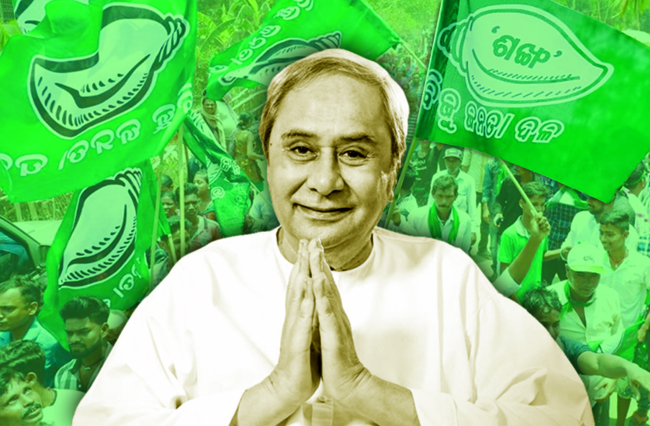 Bhubaneswar : Biju Janata Dal President and Odisha Chief Minister Naveen Patnaik today said the youths of the state would not like to be a drop in the ocean, but the ocean itself.
He said this referring to the character of national parties, who attempt to make Odisha as part of their regime. "We are not a drop in the ocean, We are the ocean," Naveen said while addressing the first executive meeting of the BJYD.
Naveen said the primary objective of National Parties is to win elections and have power to form the Government at the Centre.
Similarly, the primary objective of the state leadership of a National Party, is to impress the national leadership so that they can get crucial posts or become ministers.
History has shown us that National Parties always have a mainstreaming agenda. It is only through mainstreaming that they can get maximum votes and wish to form a Govt at centre, he said.
The BJD President said for this their strategy revolves around uniform language -Hindi , uniform culture , uniform policies which will appeal to the large populous states and then impose the same across the country ignoring the unique identity of certain populations.
"National parties are bound to compromise on the distinctive requirements of a state for gains in the larger national context ," he said.
On the other hand, Mr.Patnaik said: For us, our language Odia is more important than Hindi. For us our Mahanadi is more sacred than any other river .
For us Odissi music is a classical art form. For us Kosali and Ho are mainstream languages. For us the rich diversity of our tribal population is our pride. For us Sambalpuri handloom is world-class. "
For a National party or their branches in States, these do not matter.

The state leaders of national parties neither have the voice to insist on protecting our unique heritage nor do they have the intent to do so in a hierarchical centralised national party structure .
Congress Governments in the state were remote controlled from Delhi. BJP Governments in other states also follow the directions of the national leadership, he said
He urged the youths to compare this with the trajectory of Odisha under a regional party. There is stark and positive difference. BJD as a regional party stands for preserving and promoting the unique identity of Odisha.
"We don't have any bosses in Delhi. Our bosses are the four and half crore people of Odisha .We have to impress only the people of Odisha and will continue to fight for their rights," Naveen said.
We have been fighting for the water of Mahanadi. We have been fighting to declare Odissi music as classical. We have been fighting for inclusion of Kosali and Ho languages in the 8th Schedule. We have been fighting for the benefits of our mineral riches to come to the State and it's people, he said.
Stating that almost every year Odisha faces a natural calamity of humongous proportions, Naveen said it is because of our unique location in the neck of the peninsula. We suffer hugely for these catastrophic events, very frequently, he said.
Both the National parties -BJP and Congress had kept Special Category Status as their number one manifesto point. After elections every time they conveniently forgot it, the chief minister alleged.
BJD will continue to fight for it and keep reminding national parties about their step motherly treatment of Odisha, he said.
The Chief Minister said the very purpose of forming a separate state is to preserve , protect our unique identity and continue to fight for the people of Odisha.
In this context it is only a regional party whose survival and growth is in sync with the growth of development of Odisha that can stand and fight for its people, he said.
BJD as a regional party is synonymous with the aspirations and ideals for which the state of Odisha was formed.
He said Odisha was the first linguistic state to be formed in the country! It's language Odia is unique and the language has given us the State.
The art culture and heritage of Odisha is unparalleled, Naveen said adding that Odissi is exquisite.
"Jagannath Maha Prabhu is our bedrock. His worship and faith is our essence and not only a form of religion. Mahanadi is our life line, and we are blessed with plentiful water. Our mineral wealth is bountiful and unmatched," he said.