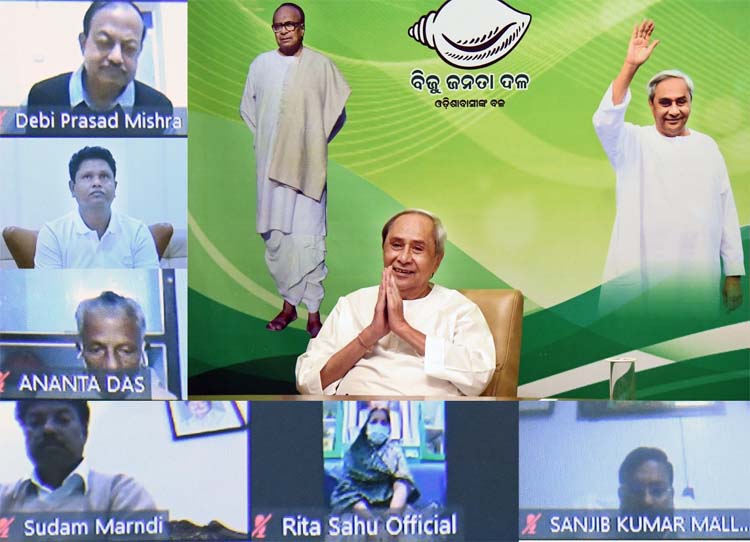 Bhubaneswar: BJD Supremo Naveen Patnaik on Saturday advised his party leaders to reach the voters with achievements of the BJD Government during campaigning and come up with their blessings.
As the party is set for campaigning for the Panchayat election, Mr.Patnaik addressed his party MPs, MLAs, district observers and district presidents through virtual platform, Saturday.  
"I know all of you are actively involved in the Panchayat election for the victory of our party candidates. We all know that the people of Odisha have faith in BJD and have blessed us in every election," he said.
Stating the Opposition parties don't have any issue, Mr.Patnaik said, "They will use misinformation as their weapon. So, I request you to tell the people about the achievements of our government and counter the opposition."
Highlighting some of the major achievements of the BJD government, he said, the distribution of smart health cards under Biju Swasthay Kalyan Yojana has brought hope and happiness among the people.
During the Covid-19 pandemic, the state government has ensured disbursement of Rs 10,000 crore interest-free loan to members of Mission Shakti, the CM said.
Among other schemes, he mentioned that the Rs 10,000 assistance to each landless farmer under Kalia scheme, pucca houses for homeless people in rural areas, and welfare schemes for tribal people have shown way to other states.
As the third wave of Covid-19 is going on, he advised the BJD leaders to strictly follow the Covid-19 norms during the election campaigning. Odisha is the number 1 state in the country in management of Covid-19 and able to save precious human lives, Naveen said.