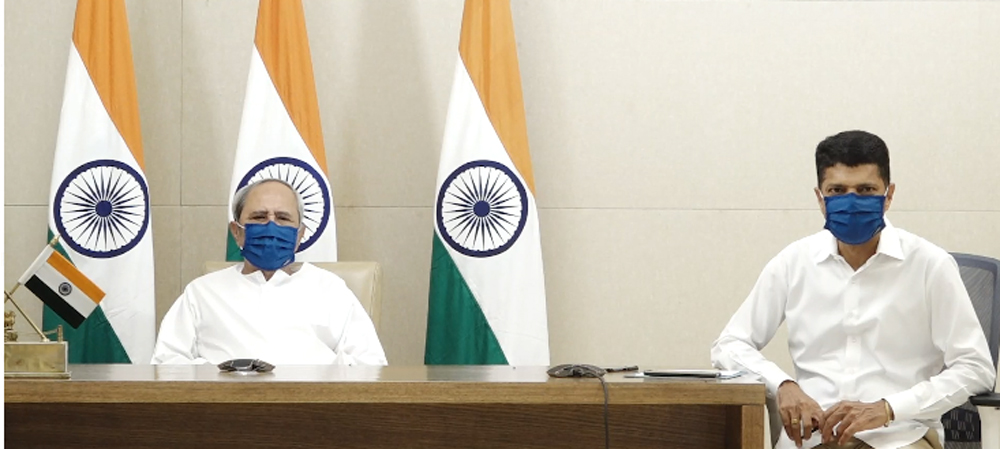 Bhubaneswar: Chief Minister Naveen Patnaik tuesday asserted that tackling the Covid pandemic is a joint social responsibility.
Inaugurating a 100-bed Covid Hospital built in collaboration with Vedanta Group in Deogarh through video conferencing from here, the chief minister said everyone's cooperation is needed to fight the pandemic.
He said that it was gratifying to see the PSUs of the corporate sector, the State and Central governments working together with the private hospitals in this regard.
"Everyone needs to work to cope at their own level," he added.
The 100-bed hospital in Deogarh has 12 ICUs, 32 HDUs, a special children's ward and all state-of-the-art medical equipment and laboratories.
The state government has taken charge of all medical facilities, supply of medicines and food to the patients at the hospital.
There is already a 180-bed Covid Hospital in Deogarh.
The Chief Minister said that while the second wave of Covid was not over yet, the information of the third wave had arrived.
"We are continuing our preparations to address this," he said, adding that the health infrastructure has been strengthened with the provision of Liquid Medical Oxygen in 30 districts of the state.
"Our policy is 'all lives are precious'. Under this policy, the State Government has taken on the responsibility of providing medical care, testing and food. This has strengthened people's confidence in the system," he asserted.
With better health care facilities, the situation can still be more effectively handled, he said.
The Chief Minister complimented Vedanta Group Chairman Anil Agrawal for the cooperation in setting up the hospital in Deogarh and the people, doctors, health workers, Asha and Anganwadi workers of the district for their excellent performance in the control of Covid.
"The vaccine will protect us," he said urging the people to get vaccinated.
Speaking on the occasion, Union Minister for Petroleum and Natural Gas, Steel Dharmendra Pradhan said that due to the efforts of all, the impact of Covid in Odisha was declining.
Complimenting everyone for their cooperation, he said Covid was now under control in western Odisha, including the Deogarh district.
He supported the demand for another Covid hospital in Sambalpur and lauded the efforts of the state government to produce vaccines in Odisha.
He stressed the need for the vaccination program to be carried out in a planned manner so that everyone can get vaccinated within 6-8 months.
Health Minister Nabakishore Das and Minister for Women and Child Development Tukuni Sahu lauded the Chief Minister's strong leadership in the field of caviar control and improvement of health infrastructure in Odisha.
Vedanta Group Chairman Anil Agrawal, who attended the function, said that Odisha is number one in the country in the management of Covid.
"The Vedanta Group was always ready to cooperate with any program in the state, including vaccination," Agarwal said.
Sambalpur MP Nitish Gangadev, Deogarh MLA Subash Panigrahi attended the main function and shared their views.