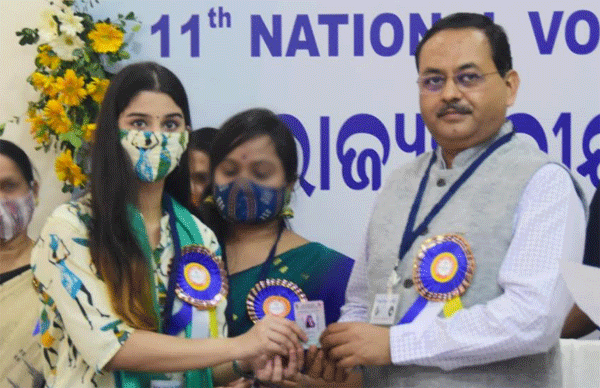 Bhubaneswar: Odisha Chief Electoral Officer (CEO) Sushil Kumar Lohani has appreciated efforts of the Balasore and Jagatsinghpur District Administration for their significant contribution in conduct of 'COVID Safe' Elections, which witnessed record turnout.
On behalf of ECI, Mr.Lohani also felicitated these officers in today's celebration for their significant contributions on the 11th National Voters' Day.
National Voter's Day is being celebrated today in the state as well as in the entire country as a mark to celebrate the foundation day of Election Commission of India.
With an objective to encourage more young voters to take part in the Political process and infuse democratic values among all voters, the National Voters' Day celebration has started in the country in 2011.
The State level function was organised virtually and Chaired by Sushil Kumar Lohani, Chief Electoral Officer, Odisha and attended by District Collectors, ADMs, Sub-Collectors and other poll related officers.
The function was also telecast live through YouTube Live & Facebook page of CEO, Odisha.
Mr.Lohani congratulated all the voters of Odisha and stated that in democracy every vote and every voter is important and accordingly Election Commission tries to facilitate maximum participation during the poll.
He specifically highlighted the special arrangements made during the elections conducted recently in Bihar and in other states during COVID-19 Pandemic period.
Since its birth, Election Commission is playing a pivotal role in the country in restoring democracy by way of holding Elections and ensuring Electoral Rolls regularly.
This year's NVD has been celebrated with the theme –"Making Our Voters Empowered, Vigilant, Safe & Informed."
Today's celebration is also being held at district level and Booth level.
At all levels, the newly enrolled voters have been administered with Voters' Pledge. They have been felicitated with distribution of Electoral Photo Identity Cards (EPICs).
Like every year, this year also Special Summary Revision (2020-21) has been carried out.
About 7,71,123 voters are included in the E. Roll in this Revision out of which 37.20 % i.e. 2,86,843 no. of voters are new (1st time) Voters ( i.e. consisting of 1,70,044 Male, 116,734 Female and 65 Third Gender Voters).
Election Commission has time and again developed different platforms involving technology to facilitate voter registration as well as to deal with Poll related matters. Taking this initiative forward during this year's NVD celebration, the Election Commission has launched e-EPIC.
e-EPIC is an alternative and faster mode of obtaining EPIC in a digital Format, equally valid as a proof of document for voter identification. e-EPIC is a noneditable PDF version of the EPIC that can be downloaded in mobile or in a self printable form on the Computer. The voter can bring it as a proof during polling.
All the newly enrolled electors are eligible to down load e-EPIC from 25th January to 31st January,2021 and all general voters can download e-EPIC from 1st Feb,2021 onwards. The citizens can download e-EPIC from 1) Voter Help Line Mobile App, 2) https://voterportal.eci.gov.in/ and 3) https://nvsp.in/
Three District Election Officers belonging to Sundergarh, Rayagada and Koraput districts,11 E.R.Os and 06 B.L.Os have also been felicitated in today's function for their significant efforts during the Special Summary Revision – 2021.
The best performing BLOs at district level have been awarded at their corresponding district level NVD functions.
Media has played a very constructive part during the recently concluded Bye Elections on Odisha. Today in this auspicious day, through all Print & Electronic media, we again appeal to all the Electors and citizens in general, to take part in the democratic process like Revision and Elections and help in Nation building.
The function was also attended by Addl. CEO B.P Ray, Joint CEOs S. Satpathy, S Kar, Dy CEO, PK Sahoo and other officers & staff of CEO office.