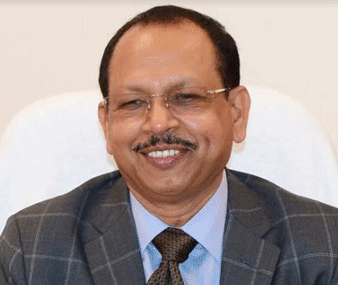 Bhubaneswar: Pradeep Jena, Development Commissioner urged for timely provision of credit to the farmers as a critical input for the improvement of Farm Sector in Odisha.

Mr.Jena, while addressing the State Credit Seminar here on 25 January appreciated the efforts of NABARD in bringing out the State Focus Paper and holding the State Credit Seminar in time which will facilitate better credit planning in future.
Development Commissioner also highlighted the necessity to motivate the farmers to take up remunerative crop where irrigation facility has been provided.
Providing real life incidence, he highlighted timely provision of credit to farmers as a critical input for the improvement of farm sector in the state.
NABARD assessed a total credit requirement of Rs. 110735 crore for the year 2021-22 with greater emphasis on crop diversification, animal husbandry and fishery sector apart from greater thrust on enhancing credit flow to Self Help Groups.
In the State Credit Seminar for 2021-22 the State Focus Paper for the State was released by Finance Minister Niranjan Pujari.
Agriculture Production Commissioner RK Sharma , Principal Secretary- Finance Ashok Kumar Meena , Regional Director, RBI, MK Mall, SLBC Convener, A Jena graced the occasion.
The meeting was attended by controlling Heads of Banks and senior functionaries from the State Govt. For the first time the seminar was attended by the District Collectors, LDMs and DDMs of NABARD in a virtual mode.
C Udayabhaskar, Chief General Manager, NABARD explained the process of preparation of credit projection for priority sector, which forms the basis of Annual Credit Plan.
He also said that the Credit projections for Odisha for 2021-22 is Rs.110735 crore which is based on the potential assessed under various sectors and sub sectors in all the agro climatic zones of the state.
Raj Kumar Sharma, Agriculture Production Commissioner outlined the various policies that Odisha Government has initiated in order to augment the farmer's income like Odisha Agriculture Policy, KALIA & BALRAM Scheme & Odisha FPO Policy 2018.
Ashok Kumar Meena, Principal Secretary, Finance informed that Odisha has been performing consistently well compared to the national level GDP.
However he pointed out that the share of the Bank credit in the GSDP of the state is much below than the contribution of credit to national level GDP.
This reflects that while state is doing its best and Banks have large scope to enhance its partnership in the progress.
He advised Banks to double the credit assistance being given to the SHGs.
CGM, RBI Mr.Mall and GM, SLBC Mr.Jena also spoke on the occasion and congratulated NABARD for bringing out the useful credit planning document in time.