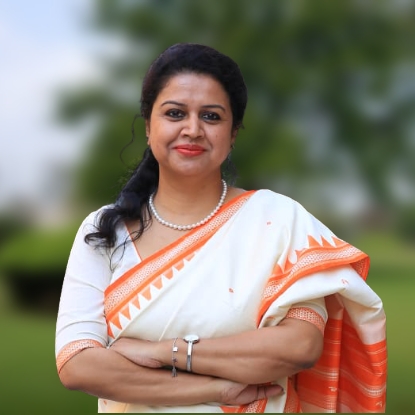 Bhubaneswar: Nilanjana Mukherjee has a problem. During stressful times she never loses her cool. And most importantly she never misses a telephone call to respond to any one may be at 1 AM.
The Associate Vice President of AMRI Hospitals is a real leader, who carries people along with her with care and compassion, said a former Chief Secretary.
As COVID-21 has proved to be presenting a tough and stressful time for the honest, hardworking and determined as well as a serving soul like Ms.Mukherjee to work tirelessly for which AMRI Hospitals is gaining wide acceptance among the people and Government as well.

Available from early morning to late night, Ms.Mukherjee is on her toes and she never loses her coolness and ready to serve people. During these days COVID Task Force headed by AVP AMRI is taking all the pressure and trying to help out the patients in a caring manner, admit COVID survivors.
An ardent devotee of Lord Jagannath, she feels that it's all Blessings of Mahaprabhu that she came to the State with her parents blessed her so she is fighting out, said sources close to her.
AMRI Hospitals, has the dedicated physicians and nursing cadre, who take inspiration from the hyper active AVP Ms.Mukherjee takes lot of interest in minute details and acts in an electrifying speed.
Multi Specialty Health Care Facility, AMRI is offering its best of services with ease during the most tough times, admits patients who have received the care and attention of the Hospital.
The exclusive new hospital with best-in-class OPD and in-hospitalization facilities, offered premium healthcare services to the denizens of Bhubaneswar and its periphery, admit experts in Health Care Sector..
This Health Care facility is the culmination of sheer hard work and passion infused by Ms Mukherjee, which sets AMRI apart from its peers is the seamless accessibility of the management and consultants, resulting into very low attrition rate.

AMRI's claim to fame is its super-efficient emergency response, through which it has also has set a benchmark for other hospitals to emulate.
The professional approach and always ready to help is the cardinal principle of the Emami Group, which controls AMRI Hospitals.
"Whenever you require attention of the AMRI Management, Ms.Mukherjee never fails to respond and it is a pristine quality of her", said a Top Hospitality Czar of the Country.
State Government is also equally recognizing AMRI as the management is responsive and caring, said a senior Minister, adding thanks to sincere approach of AVP Ms.Mukherjee, AMRI will go a long way in serving the people.