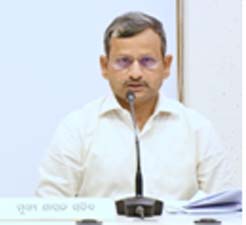 Bhubaneswar: Chief Secretary Suresh Chandra Mahapatra Friday directed the Departments of General Administration and Public Grievances and Housing and Urban Development to prepare proposals for decentralization of specific powers to enable a large number of people in the twin cities of Cuttack and Bhubaneswar for ever.
Mr.Mohapatra at a high level meeting suggested decentralizing this power to the Development Authority and State Housing Board considering various aspects related to transfer of ownership of land and existing regulations.
In this way, land leaseholders for non-commercial private residences can easily and conveniently get conversion services to freehold, he said.
The proposal was asked to be submitted to the government for approval within a week.
In the meeting, the issues related to the contract with the people who got houses in Chandrama Housing Complex were discussed in detail. Considering the various aspects of the problem, the Chief Secretary Mr.Mohapatra decided to resolve them as quickly as possible, and ordered the problem be solved within a month.
Notably, so far 37 housing schemes have been leased to BDA and 44 housing schemes to Odisha State Housing Board from the Department of Public Administration and Public Grievances.
Similarly, through the Department of Revenue and Disaster Management and the Department of Urban and Development, government land has been leased to the CDA for housing schemes.
Notably. If this power is decentralized to the Development Authority, about 50,000 families will benefit.
Apart from this, the free-hold system is also running for those who have leased land for non-commercial private residence directly from the Public Administration and Grievance Department.
Mr.Mohapatra also directed the department to make this process more simple and accessible.