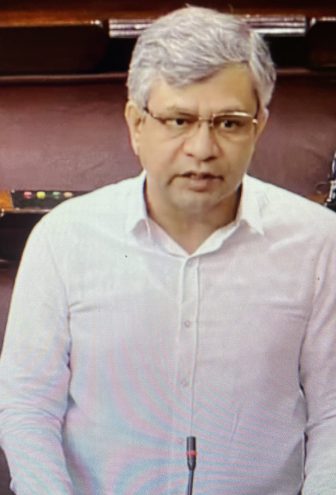 New Delhi: The Odisha Government has to expedite the land acquisition process for early commissioning of the much-delayed Talcher-Bimlagarh new railway line project.
Railways Minister Ashwnini Vaishnaw told this in Rajya Sabha while replying to a question of BJD Member Prashanta Nanda.
The railway took up the work of Talcher-Bimlagarh (150 km) new line project in 2003-04. The anticipated cost of the project is Rs 1928 crore, he said.
So far, the work has been completed in Talcher-Sunakhani (around 20 km) section. Further, work has been taken up between Sunakhani to Khamar (30.50 km) section, the Minister said.
However, work is held up due to legal issues. Land acquisition in the balance section from Khamar to Bimlagarh has been taken up.
Out of 1002.61 acre of private land, 524.81 acres of land has been acquired. Similarly, out of 422.38 acres of government land, 251.10 acres of land has been alienated and all the forest land has been diverted, he said.
Now, the Odisha Government has to expedite the acquisition of balance land, he added.
Sources said the delay in land acquisition and multiple legal disputes have led to an unprecedented cost overrun and are seriously affecting the project viability.
Of 9.7 km track length between Sunakhani and Samal, 75 per cent work is complete. However, progress has come to a halt now due to two pending court cases, the source said.
Similarly, 85 per cent work on the 6.53 km stretch between Samal and Parabil is over but facing the same fate due to three court cases. Though 47 per cent work on the 14.20 km stretch between Parabil and Khamar has been completed, it is not making any progress due to four pending cases, officials said.