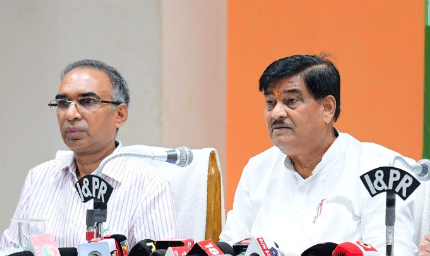 Bhubaneswar: Minister Fisheries and ARD(FARD) Ranendra Pratap Swain has said that Total Budget Provision in F&ARD sector has increased from Rs 1674.15 crore during 2022-23 to 1769.29 crore in 2023-24 with overall growth of 5.7 per cent as a measure towards welfare of fishing community and livestock farmers of the state along with multiplying their income. Principal Secretary FARD Suresh Kumar Vashisth was present in the Media Briefing.
In accordance with the strategy towards amelioration of Fisheries sector of the State, the budget outlay has been enhanced from Rs.552.81 Cr. in 2022-23 to Rs.662.07 Cr in 23-24 with 19.76 % increase.

A new State Sector Scheme MukhyaMantri MatsyaJibi Kalyan Yojana(MMKY)-an umbrella scheme with 17 components have been proposed with Budget outlay of Rs.210 Cr. This initiative of Government aims at benefiting 50,000 fishers including 11,000 WSHGs directly and more than 1 lakh fishers indirectly.
There has been remarkable achievement by WSHGs who have taken up scientific pisciculture under various Government programs specifically pisciculture in Gram Panchayat Tank in last four years and more than 13000 WSHGs have been empowered through this programme Considering the success of WSHGs in scientific pisciculture, a major component of the flagship scheme MMKY is to promote WSHGs to take up pisciculture in Gram Panchayat Tank, Private Tanks and intensive aquaculture using Biofloc technology. A provision of Rs. 84.47 Cr. has been made during the Financial Year 2023-24 which is an increase of 116.5% compare to previous year.
New technology for intensive aquaculture will be promoted through Biofloc technology. A provision of Rs. 18.49 Crore has been provisioned for 2023-24 for introduction of 6700 number of biofloc tanks.
The seafood export being one of the most lucrative sectors and showed a phenomenal growth. During 2021-22, sea food export reached to 4526 crores and State has plan to enhance the export value in coming years. A new scheme- Promotion of Aquaculture and Shrimp export Cell with an outlay of Rs. 24.00 Cr. has been provisioned for financial Year :2023-24 to promote processing unit for value addition of fish with in the State. This initiative will further increase the export competency of our marine fish exporters.
Rs.22.50 Cr. has been provisioned during the year Financial Year :2023-24 as livelihood assistance to around 15,000 marine fishermen families has been increase to Rs. 15,000/- per family from Rs.7,500/- whose livelihoods are affected due to imposition fishing ban for Olive ridley sea turtle conservation.
Rs.220 Cr. has been provisioned during the year Financial Year :2023-24 for infrastructure development in Fisheries sector i,e. development of Government Fish Farm, development of Brackish water cluster, construction of new Fish Landing Centre and office building of Assistant Fisheries Officer.
It has been proposed for dredging of Devi River mouth at Astaranga and Mahanadi River mouth at Paradeep with provision of Rs.20 crore to make them navigable round the year for the4 benefit of the Fishers against nil budget during last year
For creating public awareness and digitisation of the sector, outlay of Rs.20 Cr. has been provisioned during the year Financial Year :2023-24 which is four times more than the previous year.
For enhancing fish production in reservoir and enhancement of livelihoods of primary Fishermen Co-op Society members, an outlay of Rs.6.60 Cr. has been provisioned for stocking of 4 crore fingerlings in 130 reservoir during the year Financial Year :2023-24.
An outlay of Rs.180 crore has been proposed under the Central sponsored Scheme for integrated development and management of fisheries sector.
There is an increase of 54 per cent in budget outlay of poultry development from Rs 102 crore in 2022-23 to Rs 157 crore in 2023-24, which will help in multiplying income of around 35,000 families.
Minimum subsidy provision under State Plan schemes is increased from 40 per cent to 50 per cent for all livestock farmers and to 60 per cent for SC/ST/Women/TG/PwD farmers.
With a budget provision of Rs 28 crore in small animal Development sector, 3000 WSHGs will be supported for setting up semi-commercial goat units of 30+2 goats each and 1500 farmers will be supported for establishing 10+1 goat units.
A new scheme "Support to Farmers for Buffalo Rearing" has been introduced under Dairy Development with a budget outlay of Rs 3 crore, benefitting 314 households in the state.
An amount of Rs 10 crore has been provisioned for a new programme for establishment of vermicompost units by WSHGs to promote organic farming & sustainable crop prodn.
For effective livestock healthcare service delivery in the state, there is a provision of Rs.194 crore under infrastructure support and veterinary service delivery during 2023-24 for strengthening and modernization of 296 Veterinary Hospitals and Dispensaries.
Budget provision under Information, Education & Communication (IEC) has increased threefold from Rs 5 crore to Rs 15 crore as a measure of creating mass awareness and educating livestock farmers to adopt new technology for better production.
Cattle breed improvement program is being focused to increase milk production with use of sex sorted semen of high genetic potential bulls. Sex-sorted semen technology will ensure up to 90% chance of production of female calves with high genetic merit along with reduction of male progeny, thereby reducing the burden of farmers to manage male bull calves.
The State Government has introduced artificial insemination program in goats by using local germplasm like Black Bengal and Ganjam breeds for genetic improvement and higher productivity. It leads to enhanced productivity of goats by increasing birth weight, growth rate & prolificacy.