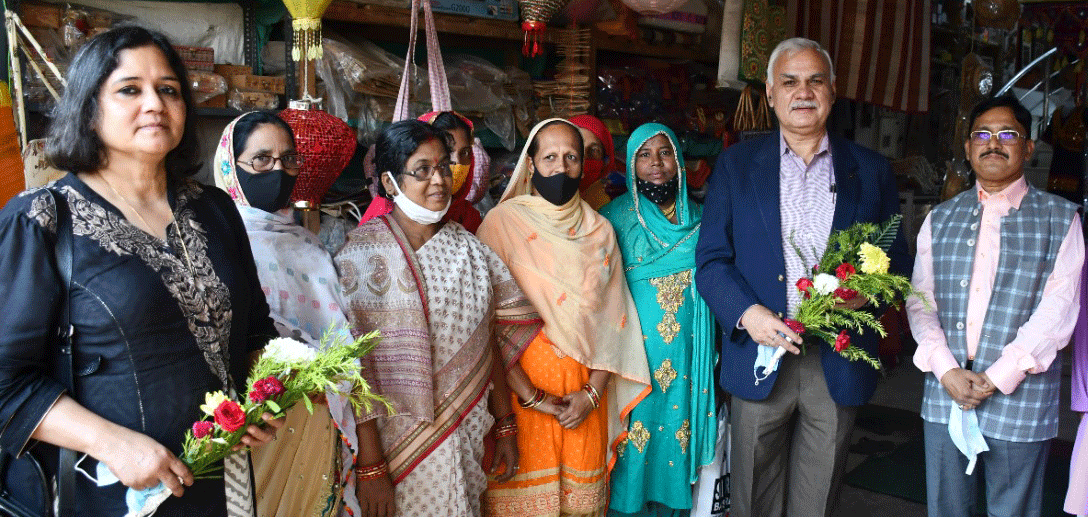 Bhubaneswar: Durga Shanker Mishra, Secretary, Ministry of Housing and Urban Affairs (MoHUA), Government of India has appreciated the effective participation of Mission Shakti SHGs and transgender groups in urban development and livelihood generation programs in Odisha.
On a visit to the State for the launch event of the Association of Water Supply and Sanitation Organization (AWSSAR), Mr.Mishra interacted with several Self Help Group(SHG) Members in Bhubaneswar and Puri.
Secretary MoHUA Mr.Mishra visited Pipli on Sunday and interacted with members of the Kiran Area Level Federation (ALF) of SHGs at the Diamond Applique Centre.
The members explained in detail about the process of creating more than 40 applique products under the DAY National Urban Livelihood Mission (NULM) program being implemented by the State Urban Development Agency(SUDA).SUDA Chief Sarada Prasad Panda accompanied Union Secretary.

The Secretary was happy to note the way the women SHGs have scaled up their operations for increased income and better livelihood.
He appreciated the efforts of SUDA in transforming the lives of underprivileged women and ensuring their social and economic empowerment through up-scaling and partnering with them.
Mr.Mishra stressed upon the need for onboarding the SHGs to pan India e-Commerce platforms like Amazon to emerge as a leading example of Urban Poverty Alleviation under DAY NULM in the country. He was happy to note that Kiran ALF of SHGs is already on e-commerce platform Flipkart.
Earlier, Mr.Mishra interacted with the transgender group members engaged in collection of parking fees in Bhubaneswar and Jal Sathis involved in 24X7 drinking water supply in Puri.
He said that it was heartening that Odisha has set a benchmark in empowering women and communities in delivery of urban utility services.
Sarada Prasad Panda, Project Director, SUDA, apprised the Secretary on the various innovative interventions and partnerships with Mission Shakti SHGs.
Another senior official from the delegation, Sarada Muralidharan, Additional Chief Secretary in charge of both Urban and Rural development , Kerala, visited the Septage Treatment Plant (SeTP) and other urban infrastructure facilities being managed by Mission Shakti SHG at Jatni .
Appreciating the effective partnership built with the local Women and Transgenders SHGs , she said Odisha community partnership model is amazing and inspiring.