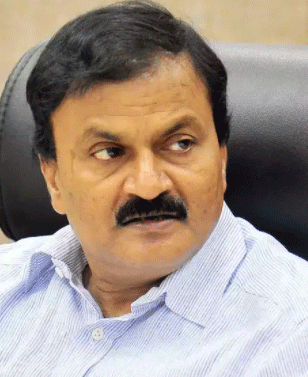 Bhubaneswar: Senior Odia IAS officer and Secretary, Department for Promotion of Industry and Internal Trade (DPIIT), Dr Guruprasad Mohapatra passed away on Saturday.  He was under treatment in AIIMS, New Delhi since mid-April.
An Indian Administrative Service (IAS) officer of 1986 batch, Mr.Mohapatra had assumed charge as the secretary of the Department for DPIIT in August 2019.
Prior to that, he served as Chairman of Airports Authority of India (AAI). Mr.Mohapatra brought about many changes in AAI's strategic operations. He gave new direction to AAI and steered it to achieve greater excellence in the sector of airport infrastructure development not only at the metro airports but also in tier II and tier III cities.
He had earlier served as Joint Secretary in the Department of Commerce, Government of India where he worked for the promotion of Special Economic Zones (SEZs), Public Procurement and Project Exports (Financing & Insurance).
He had worked extensively in the power sector, urban development and industry, where he was involved in comprehensive reforms in the power sector and restructuring of the erstwhile Gujarat Electricity Board into several commercial entities.
The Odia IAS officer had worked as the Managing Director of Gujarat Alkalies and Chemicals Ltd. (GACL) and Managing Director of Gujarat Narmada Valley Fertilizers Company Limited (GNFC). He also worked as a Municipal Commissioner in Surat from 1999 to 2002, during which he was actively involved in the process of converting Surat into one of the models of urban governance.
He also worked as a Municipal Commissioner in Ahmedabad for more than 3 years, during which he was instrumental in developing such iconic projects such as Sabarmati Riverfront, BRTS, Kankaria Lakefront and Heritage Promotion
Prime Minister Narendra Modi, Chief Minister Naveen Patnaik, Union Ministers, Cabinet Secretary, and entire IAS circle have paid tributes to Mohapatra.
"Saddened by the demise of Dr. Guruprasad Mohapatra, DPIIT Secretary. I had worked with him extensively in Gujarat and at the Centre. He had a great understanding of administrative issues and was known for his innovative zeal. Condolences to his family and friends. Om Shanti," Mr.Modi tweeted.
In a tweet, Chief Minister Patnaik said, "Distressed to know about the passing away of Odisha born IAS officer and Secretary, Govt of India, Dr Guruprasad Mohapatra. He is known for his administrative acumen while serving in various administrative capacities. Heartfelt condolences to his family & friends. #OmShanti."
Union Home Minister Amit Shah said Mohapatra was a very able and hardworking officer. His untimely demise is very saddening.
"He was a visionary officer, with an impeccable track record. He will be remembered for his contribution. I convey my deepest condolences to his family and friends," BJP President JP Nadda tweeted.
"Extremely saddened to hear about the loss of Dr. Guruprasad Mohapatra, Secretary DPIIT. His long-standing service and dedication to the Nation have left a lasting impact. I convey my deepest sympathies to his family and friends," Railway Minister Piyush Goyal tweeted.
Taking to Twitter, Union Minister Pradhan said that In Mohapatra's untimely death, India has lost an able administrator. "A pioneer, he made unparalleled contributions in reforming the urban development landscape in Gujarat, led many public enterprises with distinction and also steered the commerce & aviation sector," Mr.Pradhan tweeted.
Cabinet Secretary Rajiv Gauba also expressed deep shock at the untimely death of Guruprasad Mohapatra.
In his condolence message, Gauba said: "Dr. Mohapatra was a dear colleague and an outstanding civil servant with exceptional qualities of strategic thinking and leadership. As the head of one of the Empowered Groups, he worked with utmost dedication in the ongoing fight against Covid-19 pandemic."
Gauba said even after he had tested positive and was not well, Mohapatra continued to work for long hours, monitoring the supply of oxygen across the country, under very challenging circumstances.
"We are shocked and saddened by the untimely demise of Dr Guruprasad Mohapatra, IAS (GJ:86), Secretary @DIPPGOI. An exemplary officer, he served the nation in important assignments, both in Gujarat and Govt of India. Such a loss to nation & society. Our condolences to the family," IAS Association said.