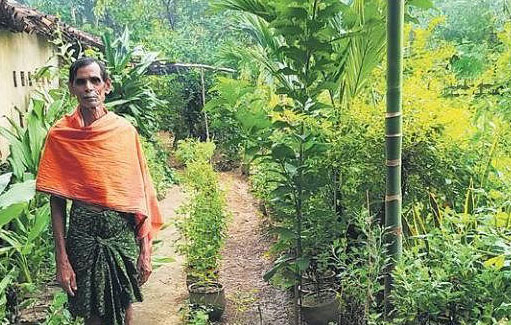 Bhubaneswar: Prime Minister Narendra Modi has praised Patayat Sahu of Kalahandi district for creating a garden of medicinal plants during his 'Mann Ki Baat' programme this morning.
"Patayat Sahu ji, who lives in Nandol, Kalahandi, Odisha, has been doing unique work in this area for years. He has planted medicinal plants on one and a half acres of land," the Prime Minister said.
Not only this, Mr.Sahu has also carried out documentation of these medicinal plants, he said.
"My dear countrymen, the condition of our lives today is such that the word Corona resonates in our ears many times a day… the biggest global pandemic in a hundred years, COVID-19 has taught every countryman a lot," Mr.Modi said.
Today there has been an increase in curiosity and awareness about healthcare and wellness. Traditionally natural products which are beneficial for wellness and health are available in abundance in our country, the Prime Minister said.
He also lauded a group of women of Deori village near Ranchi for cultivating aloe vera.
"Whether it is Patayat Sahu ji of Odisha or this team of women in Deori, the way they have linked agriculture with the field of health is an example in itself," the PM added.
Mr. Sahu, a 65-year-old, has planted over 3,000 medicinal plants over only 1.5 acre of land behind his house. He has developed the garden without using chemicals and fertilizers.
Mr.Sahu began learning about traditional medicine as a hobby at a young age. He developed the medicinal garden behind his house 40 years back and kept on adding new species of plants to it over the years.
His grandfather was a Vaidya (traditional healer). After completing his education, Mr.Sahu learnt the traditional healing practices from his father. He has collected the medical plant species from different parts of India during his exposure visits facilitated by the Odisha Medicinal Plant Board while the rest he had collected from different forests of Kalahandi, sources said.