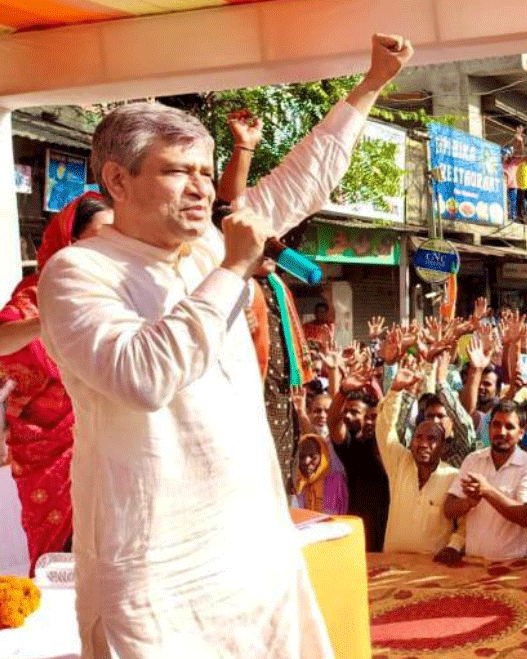 Bhubaneswar: Prime Minister Narendra Modi's blue-eyed man Ashiwini Vaishnaw, who experienced a meteoric rise in the politics by becoming a Cabinet Minister in a span of two and half years of becoming an MP, has meanwhile toured Odisha's backward KBK region. He visited the Koraput-Bolangir-Kalahandi region as part of the newly inducted Minister's Jan Ashriwad Jatra across the country.
However, will Mr.Vaishnaw's visit make any difference for the saffron party in the state? The issue is being discussed in the political circle, more so among the saffron cadre. Though it looks simple that Mr.Vaishnaw visited the KBK region as a normal visit of new Ministers, an in-depth analysis revealed that it was a well calculated move of Prime Minister Narendra Modi.
The indication in this regard was given by Mr.Vaishnaw himself after he met Padma Shri awardee Shanti Devi in Rayagada. During his discussion with Shanti Devi, the Railway Minister informed her that Prime Minister Narendra Modi had asked him to meet her personally.
This indicated that Mr.Modi had sent Mr.Vaishnaw to KBK and even told him to meet Shanti Dev. Therefore, one can safely conclude that the PM had knowledge on which part of Odisha Mr.Vaishnaw would tour and whom to meet during the visit.
"It was a pleasure meeting Padmashree Shanti Das Ji in Rayagada. Her contribution for education of tribal girls and peace in Naxal affected areas is indeed very inspiring," informed the Union Railways Minister in a tweet.
Apart from Rayagada, Mr.Vaishnaw also visited Odisha's tribal hinterland of Koraput, Nabarangpur, Kalahandi and Bolangir.
He touched major parts of the KBK region. All along his visit, Mr.Vaishnaw was seen not speaking against the state's ruling party or any other leader, but concentrating his speech on Mr.Modi's welfare schemes like Ujjawla, Swachha Bharat, PM Aawas Yojana, Jan Dhan, Digital India and others which have direct link with the poor people, women and tribal.
During his tours, Mr.Vaishnaw like Mr.Modi visited all the local places of worship in all the districts before laying straight down in front of Shree Jagannath Temple in Puri. He visited Majhi Ghariani Temple, Maa Manikeswari Temple, Sabar Shree Kshetra and other places including visiting Mahima Alekh Peeth.
Mr.Vaishnaw was also seen sipping tea on roadside stalls, dancing with tribals to the tune of folk music and even joining the women cultivators in sapling paddy in muddy fields.
The Railway Ministers' visit publicity was mostly confined to social media and there was no major coverage by any national television channels. During his visit, Mr.Vaishnaw also undertook some review meetings, but not state government officials connected with different railway projects were not consulted.
His review was mostly internal, a political analyst said, adding that Mr.Vaishnaw's visit was mostly political in nature and he tried to take maximum mileage out of it by mingling with different sections of people.
This may also be viewed as BJP's focus on the KBK region. However, the initial phase of Mr.Modi's "Look KBK" move remained silent before the saffron party made any aggressive move into the backward region.
Of the Mr.Vaishnaw's tour areas, Nabarangpur Lok Sabha seat is now held by BJD while Koraput remained in hands of Congress. However, both Bolangir and Kalahandi LS seats were won by the BJP candidates. Though BJP performed well in the western region of the state like Sambalpur, Bargarh, Kalahandi and Bolangir, the saffron party failed to motivate people in the southern districts like Koraput, Rayagada, Malkangiri, Nabarangpur.
Therefore, after getting support from the people in western region, Mr.Modi now might be trying to push the saffron colour in the KBK region including the southern belt and Mr.Vaishnaw is made to cover the areas extensively.
Interestingly, the bureaucrat turned politician has achieved the goal by creating a "feel good" factor among the people in the KBK region.
He pledged that the Narla project in Kalahandi will be expedited after getting required land from the state government and also announced that execution of Khurda Road-Bolangir rail line would be expedited. His most of the announcements were confined to the KBK region, be it in terms of rail infrastructure or the IT development or even the post office fraud case in Malkangiri district.
Anyway, the political pundits see a clear move by Mr.Modi in the KBK region through Mr.Vaishnaw. Though KBK region traditionally remained with Congress for decades, currently, it has gone to the hands of Naveen Patnaik's BJD.
But, the regional party has not yet been fully accepted in the KBK region, a lacunae that the BJP may try to take advantage of.
Had BJD been solidly rooted in KBK like in the coastal belt, the major LS seats like Koraput, Bolangir and Kalahandi would not gone to rival parties, the analysts opined. Therefore, there is big scope for BJP to grow in the tribal hinterland of KBK region. And Mr.Vaishnaw's KBK visit has greatly enthused the Saffron Brigade in the area.