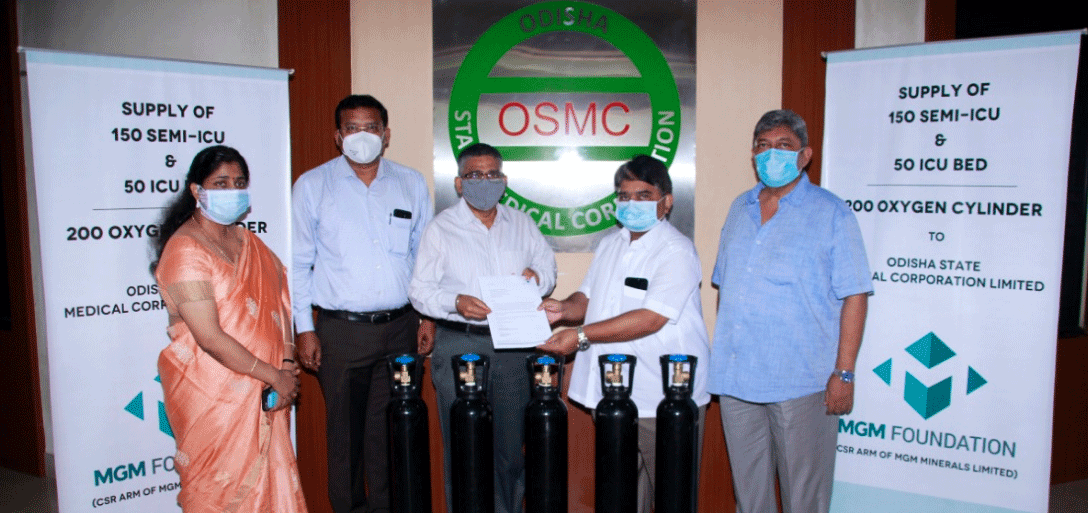 Bhubaneswar: Top Brass of MGM Foundation, the CSR Arm of MGM Minerals Limited has presented Oxygen Cylinders, Semi ICU and ICU Beds to Odisha State Medical Corporation Limited (OSMCL).
MGM Foundation has been on the forefront to support efforts of the Odisha Government in fighting COVID-19 Pandemic.
Additional Chief Secretary and Chairman OSMCL, Pradipta Kumar Mohapatra received 200 Oxygen Cylinders, 150 Semi ICU Beds, 50 Non ICU Beds.
Yamini Sarangi, Managing Director of OSMCL graced the occasion.
Pankaj Lochan Mohanty , Padma Lochan Mohanty and Saroj Kumar Ray, all the Directors of MGM Foundation were present during the handing over ceremony.
ACS Health & FW Mr.Mohapatra lauded sincere efforts of the Mining Major in helping out the State PSU, engaged in COVID-19 fighting spree.
Earlier MGM Green Energy Limited has given 70 oxygen concentrators to the State Government.
The MGM Group earlier also donated Rs 1 crore to the Chief Minister's Relief Fund (CMRF) for Covid-19 free vaccination for the people of Odisha.
Mining Major, MGM Group Chairman Pankaj Lochan Mohanty and Director Saroj Ray had handed over the cheque to Chief Secretary SC Mahapatra on an earlier occasion.