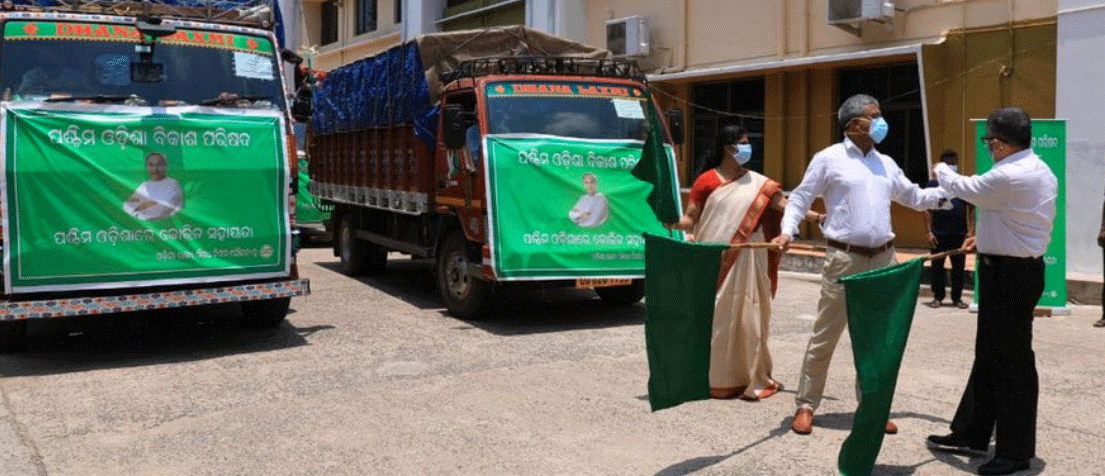 Bhubaneswar: First Consignment of Medical Equipments and Consumables were flagged off for Western Odisha Districts here on 4 June, which will benefit a large number of people in the backward areas of the State.
Principal Advisor to Chief Minister and Chairman Western Odisha Development Council (WODC), Asit Tripathy flagged off the trucks loaded with Medical Equipments and Consumables.
Earlier, Rs.25 Crore COVID-19 Package was announced on 12 May and accordingly these Health Care equipments and consumables were sent.

Additional Chief Secretary Health & Family Welfare, Praditpa Kumar Mohapatra and Managing Director Odisha State Medical Corporation Limited, Yamini Sarangi joined the event, which unveils a chapter so far Health Care aid to Western Odisha by WODC.
WODC Chief Mr.Tripathy tweeted in his twitter handle "4 trucks with med equipments & consumables were flagged for western dists form assistance from #WODC . Rs 25 cr Covid package was announced on 12 May. This is only first consignment.Thanks to #Healthdepttodisha and OSMCL for swift action. @CMO_Odisha @IPR_Odisha"

Four truck loads of Medical Equipments and Consumables like Ventilator, Health Monitor, Oxygen Concentrator, Finger Tip Pulse Oxymeter, Thermometer, Transport Ventilator, NIV Mask, N95 Maks, PPE Kit, and Surgical Gloves were dispatched.

District Collectors of Angul, Bargarh, Bolangir, Boudh, Deogarh, Jharsuguda, Kalahandi, Nuapada, Sambalpur, Sonepur and Sundargarh placed their requirements with WODC.
Earlier, WODC Chief Mr.Tripathy made extensive tour to the Western Districts and talked to District Collectors at length about their requirements and as to how WODC will provide much needed support for the Districts.
Accordingly flexibility was given for such an initiative and WODC Chairman took overdrive looking at the COVID-19 Pandemic, which on its second wave.