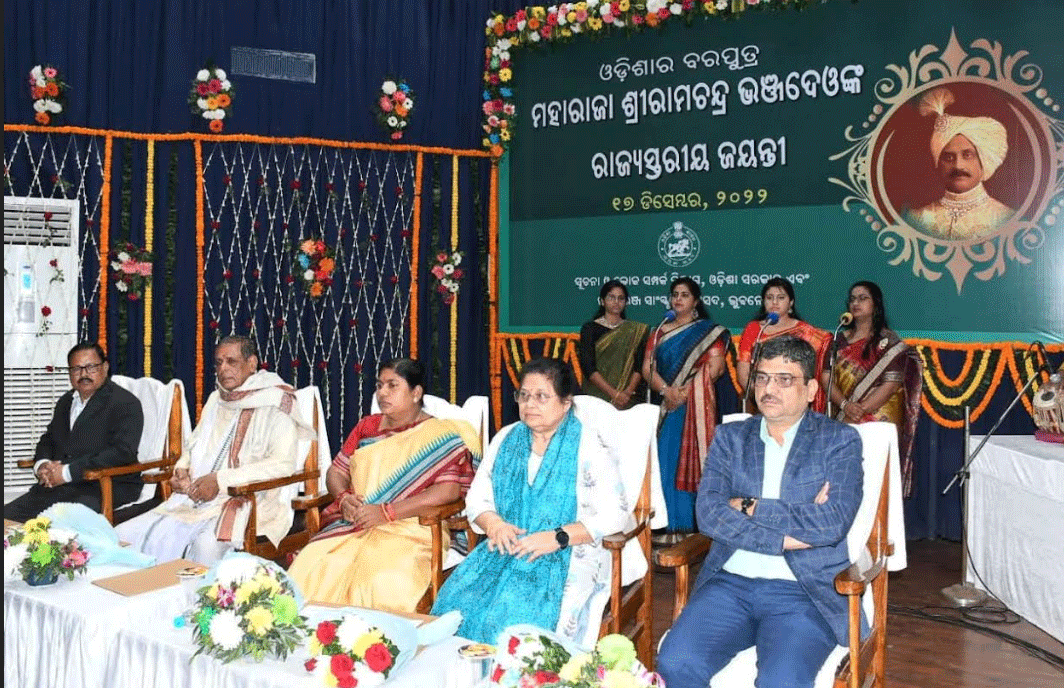 Bhubaneswar: The State of Odisha remembered and recalled Mayurbhanj King, Maharaja Sriram Chandra Bhanja Deo on his 152nd birth day.  
A special program was organized by the Information and Public Relation Department here at Jaydev Bhawan. Speakers spoke at length about Mayurbhanj Maharaja and his contribution for the State.
Director Information & Public Relations Indramani Tripathy graced the occasion, while lauding his efforts on education, agriculture and administration during his long rule.
Editor Odisha Review & Utkal Prasanga Kasturi Mahapatra spoke at length on contribution of Mayurbhanj Maharaja.
The Speakers at the occasion recalled Sriram Chandra's contribution to create Odisha as a separate province and work for the educational and social progress of the State.
Sriram Chandra Bhanja Deo was born to Maharaja Krishna Chandra Bhanja Deo on 17 December, 1870 and succeeded to the throne on 29 May 1882.
However, at that time the State was ruled under a British Commissioner till Maharaja came of age; he was formally installed as Maharaja on 15 August 1892.
The state affairs remained in the hands of his grandmother, the Dowager Maharani of Mayurbhanj, until he took charge some years later.
He worked for the overall development of Mayurbhanj Princely State and implemented a variety of benevolent measures to benefit the local populace. Many people called him as one of the "Makers of Modern Odisha.
Sriram Chandra made significant contributions to language, health, and administration. During his reign, a narrow gauge railway was built between Rupsa and Baripada. This helped further to develop the trade and commerce of the state and added to the welfare of the people.
Maharaja Sriram Chandra Bhanja Deo was an Administrator Par-excellence. He spent Rs 6 lakh from the Royal Treasury to construct two major reservoirs at Haldiha. Similarly, he increased the number of primary schools in his royal jurisdiction from 44 to 400.
During his reign, the scientific operation of iron mines was started for the first time and Gorumahisani mines were leased to the Tatas. A 474 mile road was built in the State connecting all divisional towns with Baripada during his rule.
The Baripada Municipality was constituted by him in 1905. He also started an English High School with a boarding facility, a Government Press, a fully equipped hospital and a leper asylum in Baripada.
The King was also a learned and knowledgeable patriot and great patron of the Odia language and presided over the first meeting of Utkal Samilani held on 3 December 1903 due to which he along with his father is widely acknowledged as the 'Maker of Modern Odisha'.
One of his major contribution for the State of Odisha is the Cuttack-based Sriram Chandra Bhanja Medical College & Hospital (SCB) was named after him in 1951 in recognition of the donation and efforts made by the ruler in his lifetime. A college in Mayurbhanj district founded by him has been named after him as Sriram Chandra Bhanja Degree College.
It is no denying the fact that he could be regarded as one of the greatest kings of history and the ever shining-jewel of Mayurbhanja, so also the State of Odisha.
Among others, Santosh Kumar Das, Additional Director, Sucheta Priyadarshini, Assistant Director, Odia Language, Literature and Culture Under Secretary Lakshmidhar Behera lauded Sriram Chandra Bhanja Deo for his immense contributions.
Earlier garlanding ceremony was organized, which was attended by Veteran Lawmaker, Prafulla Samal, Ex Minister Pravin Chandra Bhanja Deo, Rajmata Rajyalaskhmi Bhanja Deo and Members of Mayurbhanj Cultural Organization.