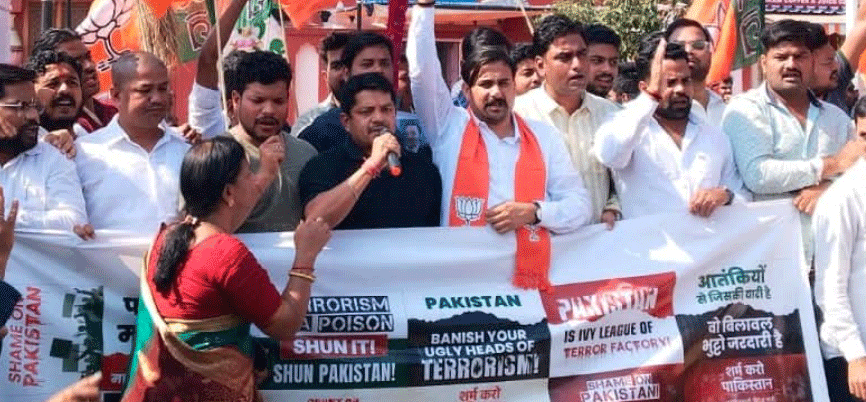 Bhubaneswar: BJP Yuva Morcha activist burnt the effigy of Pakistani Foreign Minister Bilawal Bhuto Zardari in protest against his 'insulting' statement on Prime Minister Narendra Modi in the United Nations General Assembly session recently.
An effigy of Bilawal Bhutto Zardari was burnt near Ram Mandir here.
The activists said that India's 135 crore citizens are proud of Shri Modi's leadership and his mantra of "Sabka Saath Sabka Vikas, Sabka Vishwas, Sabka Prayas" is being hailed in the world fora.
But Pakistan's Foreign Minister Bilawal Bhutto Zardari's illogical, vulgar and shameful statements against India's popular Prime Minister Yashvi Narendra Modi has made the bad mentality of Pakistan known in the world, State President of Yuva Morcha Irasis Acharya said.
The BJYM leader said Pakistan has become a haven for terrorists. Pakistan has been harbouring terrorism and terrorists for decades.
"While the whole world is praising the strong leadership of the Prime Minister Narendra Modi, the hateful and derogatory comments made by the Pakistani Foreign Minister at the United Nations have exposed his narrow-mindedness and intolerance," he said.
A delegation led by Mr.Acharya also met State Governor Prof Ganeshi Lal and submitted a memorandum over Mr.Zardari's abusive and shameful speech.