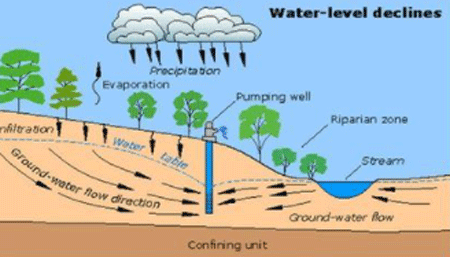 Bhubaneswar: The groundwater level in several districts of Odisha including Koraput and Rayagada district has decreased and needed recharge through artificial measures, according to a report of the Central Ground Water Board (CGWB), under the Ministry of Jal Shakti(MoJS).
The MoJS has prepared a master plan to recharge the ground water through artificial measures. The areas sowing depth to water (DTW) more than 6 m below ground level are taken as first criteria for demarcation of feasible areas for artificial recharge purpose.
Areas having depth to water level between 4-6 m bgl with appreciable decline (> 0.1 m/year) are also considered. Total 5338.98 sq. km area in 14 districts of the state has been identified for artificial recharge. The districts are; Angul, Balasore, Bargarh, Bolangir, Dhenkanal, Gajapati, Kalahandi, Keonjhar, Khurda, Koraput, Mayurbhanj, Nayagarh, Rayagada and Sonepur.
Highest 1787.81 sq.km in Koraput district area has been identified for the ground water recharge, followed by 1657.08 sq.km in Rayagada, 848.63 sq km in mineral rich Keonjhar district, 313.36 sq km in Bargarh, 238.18 sq km in Mayurbhanj and 190.78 sq km in Khurda district.
Based on the experiences gained in the field experiments and ground conditions, 100 percent water stored at surface does not reach the aquifer due to various losses. Therefore, surface water requirement shall be higher than the subsurface storage available, as per the document.
This has been estimated depending upon local situation and type of artificial recharge techniques. Total volume of surface water required is 1192.05 MCM for the State.
A total of 5538.49 MCM surface water is available in the State for artificial recharge against the requirement of 1192.05 MCM. This forms around 21.52 per cent of the available surface water. Therefore source water availability would not be a problem, it said.
The ministry has planned to construct 5856 artificial water recharge structures with an estimated cost of Rs 532.50 crore. The master plan has also proposed the construction of roof top rain water harvesting structures.
It has been assessed that roof top rain water harvesting can be adopted in ~ 3 lakh houses, government buildings, institutes etc. in urban and municipal areas of the state suitable for artificial recharge in the first phase. It will harness 76.66 MCM rain water to augment ground water resources considering normal rainfall for the state and 80 per cent efficiency of the system.
The cost of roof top rain water harvesting of a building having roof and paved area of ~ 200 sq.m. has been assessed to be Rs 12,000 and for bigger buildings having more than 1000 sq.m. will be Rs 1 lakh. The total cost for the roof top rain water harvesting for the state has been estimated to be Rs 492 crore in the first phase considering 5 per cent of the total buildings having larger roofs.
Total cost of artificial recharge schemes and roof top rainwater schemes in the state is estimated as Rs 1,024.50 crore. .
The Research & Development Division, Project Planning Wing, Department of Water Resources, River Development and Ganga Rejuvenation wing of Central Water Commission (CWC) have awarded studies on impact of climate change on water resources to some of the premier educational institutes. The studies are being implemented under the supervision of Indian National Committee on Climate Change (INCCC), sources said.