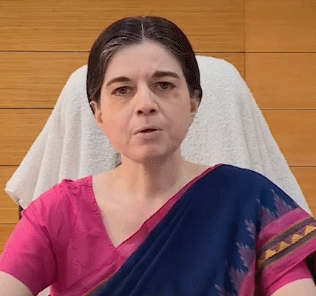 Bhubaneswar: Secretary Health and Family Welfare and Chairperson State Health Assurance Society ( SHAS), Shalini Pandit reviewed the implementation of  Biju Swasthya Kalyan Yojana (BSKY) at the ground level and directed the State Team to organise regular refresher/orientation camps for District Coordinators (DCs)/Swasthya Mitras (SMs) with best practice modules on extending health services to people at the institutional level. 
She gave this direction while reviewing the implementation plan of BSKY in conference hall of the SHAS recently wherein Chief Executive Officer SHAS and Mission Director NHM Brundha D. outlined the issues for discussion.
Shrimati Pandit asked the State Team to "Empower DCs with sufficient know-how for immediate redressal of people's grievances" at the hospital level. It was decided to strengthen office of the DCs with required infrastructure, computer, internet support etc. for enabling them to deliver timely services.
Further, She emphasized on thorough scrutiny of all negative feedbacks received from the patients through Mo Sarkar system. The nodal officers of different empanelled hospitals both inside and outside Odisha were asked to do due diligence of the negative feedbacks and grievances received through different channels. "Resolving the issues that create bottlenecks for people to avail assured services of BSKY", said Smt. Pandit "is a concrete step forward in ensuring quality health care" for all. Quick redressal of grievances received from different sources including mass media were emphasized by the Secretary.
Review showed that around 95 percent of the grievances received through different windows including social media were attended, and resolved within the scheduled timeline in interest of the patients.
The matters relating to the empanelment and delisting of hospitals as per BSKY performance figured in the meeting. Criteria for performance assessment of the empanelled hospitals were deliberated and worked out. It was decided to give more weightage to the criteria like patients' satisfaction level, feedback received through Mo Sarkar, and availability of patient-centric eco-system in a hospital for empanelment in coming years.
Chairperson also emphasized upon intensification of IEC activities at ground level for empowering the people with appropriate information. Fixing of BSKY signage in the conspicuous places of the hospitals for convenience of the patients, functional issues relating to the speed of internet connectivity, strengthening of human resource at district level, and up-gradation of BSKY software etc were discussed, and resolved in the meeting.
Joint CEO NHM Subhananda Mohapatra, Additional Director Bishnu Prasad Mohapatra, Joint CEO Finance Aurobinda Routray, Nodal officers in charge of different empanelled hospitals along with senior officers of SHAS participated in the review.