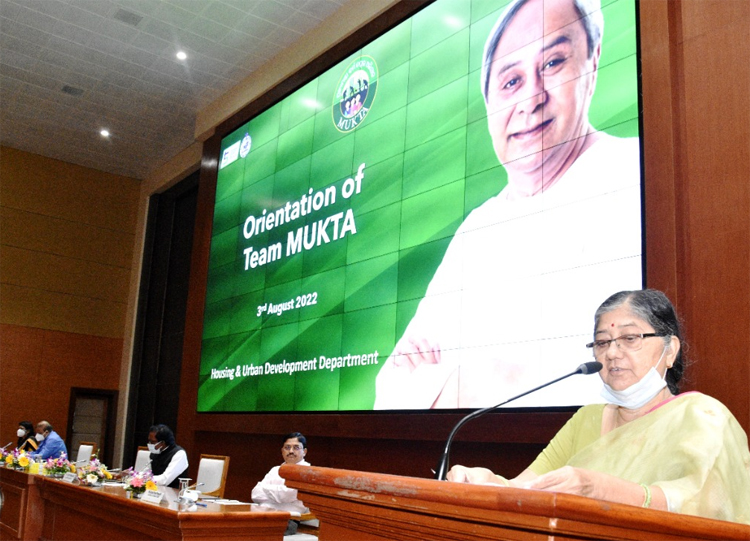 Bhubaneswar: Usha Devi, Minister Housing & Urban Development has said that Mukhyamantri Karma Tatpara Abhiyan(MUKTA) is an Urban Wage Employment Program introduced in a mid of COVID pandemic for Providing a socio economic safety net by rapid mass employment opportunities for the migrant/informal workers .
She said while inaugurating a day long State level orientation of Mukta professionals.
She said that it is an inclusive program and comes under 5T Governance Mantra of Chief Minister.
MUKTA adopts a community driven, participatory and bottom-up approach ensuring transparency and accountability in the entire execution process. Our Department has always strived to achieve speed and scale without negotiating with quality and transparency in implementation of MUKTA , She added.

During last 28 months, around45,000 projects have been implemented across 115 Urban Local Bodies of the State.
More than 40 lakhs man-days have been generated directly benefitting around 6 lakh urban poor and migrant laborers, of which close to 40% are women beneficiaries. 36,000 Rainwater Harvesting System have been created under the "Catch the Rain Campaign " in different ULBs. About 18,000Mission Shakti groups and Slum dweller associations have been partnered in MUKTA for execution of about 45,000 Projects.
While acknowledging the kind consideration of Hon'ble Chief Minister for allocating Rs. 1,000 Crores for MUKTA Scheme, which would benefit urban poor and migrant workers at large in terms of gaining livelihood opportunities at their doorsteps ,Minister advised that the Team must strive hard to make the vision of Hon'ble Chief Minister a reality and make continuous efforts to reach the last mile and make a mark in urban landscape of the State through implementation of MUKTA.
G Mathi Vathanan, Principal Secretary Housing & Urban Development in his address told that to put in record that"Mukhya Mantri Karma Tatpara Abhiyan"(MUKTA) is a flagship programme of the State Government, which was launched by Hon'ble Chief Minister on 18th April 2020 with a vision to create livelihood opportunities for urban poor and migrant workers rendered unemployed and vulnerable in the face of Covid-19. This Initiative has received 2 International Awards namely Medal of Honour and Online Popular City Award for Urban Innovation at the prestigious 2020 Guangzhou International Award. Odisha's MUKTA has been selected as one of the top five finalists for the 2021-22 WRI Ross Centre Prize for Cities. The Prize recognizes MUKTA's swift action to create mass employment and infrastructure during the Covid-19 pandemic. He also emphasized on community driven, participatory and bottom-up approach ensuring transparency and accountability in the entire execution process of Mukta and warned for any lapses .
Sangramjit Naik, Director Municipal Administration spoke on MUKTA and informed the Scheme focuses Ward of a ULB as the unit for development and creation of sustainable community-based assets at each of the 2055 Wards across 115 ULBs of the State in a saturation mode.
Director SUDA & Joint Secretary Sarada Prasad Panda in his welcome address informed about the Context setting & objective of the State level Orientation programmed and Additional Secretary Durgesh Nadini Sahoo proposed a hearty vote of thanks.
Aroud 345 MUKTA professionals from 115 ULBs and other Official have attended the Orientation works.