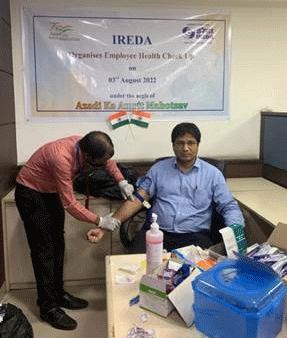 New Delhi: Indian Renewable Energy Development Agency Ltd. (IREDA) organised a preventive health check-up for its employees, under the aegis of "Azadi Ka Amrit Mahotsav".
The health check-up was organised today at IREDA's Registered and Corporate OfficeAs part of the preventive health check-up, various tests were conducted, including screening for Liver, Kidney, Blood Sugar level, Thyroid function, Blood Pressure, Vitamin D 25 & B 12, etc. 123 employees, including Chairman & Managing Director (CMD), IREDA and other senior officials availed the benefits of the health check-up.
Speaking on this occasion, Shri Pradip Kumar Das, CMD, IREDA, said that IREDA gives foremost priority to the wellbeing and fitness of its employees as human resources are the company's most valuable asset.
He added that screening will help in early detection of health issues and encouraged all employees to avail the benefit of the health check-up and focus on improving their fitness thereby enhancing performance.