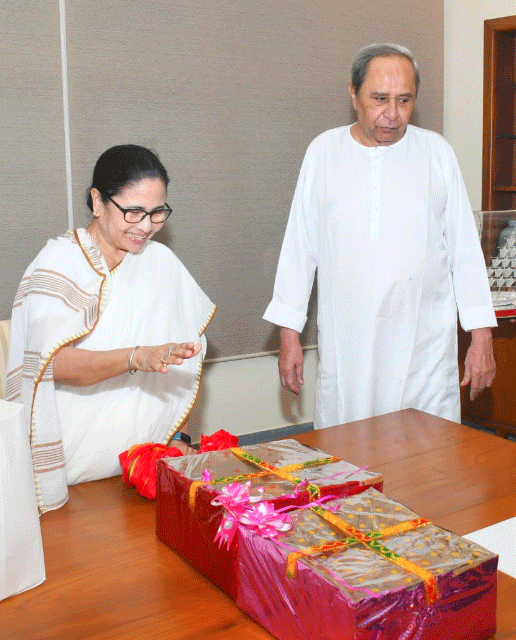 Bhubaneswar: West Bengal Chief Minister Mamata Banerjee has all praise for her Odisha counterpart Naveen Patnaik for the gesture and hospitality provided by the Odisha Government during her three-day stay in Odisha.  
Mamata, who was in Odisha on a three-day trip, met Shri Patnaik here at Naveen Niwas before leaving for Kolkata.  
"It is a good gesture from Naveenji, who gave me all the protocol, affection. The officers are very good and everything was so good. From arrival to staying and meeting, everything was so good in the blessings of Jay Jagannath," Mamata said while briefing Media persons here after the meeting.  
She has invited Naveen to West Bengal also. "We both are neighbouring states. Whenever there is a cyclone in Odisha, it also impacts West Bengal. Whenever there is a power cut due to cyclone in Odisha, the same is there in our state also, that is the situation," she said.  
Remembering her meeting with legendary leader and CM's father Biju Patnaik, Mamata said, "I have visited Naveen Niwas thrice. The last one was during the Eastern Zonal Council meeting held under the chairmanship of Union Minister Home Affairs, Amit Shah. We have maintained a very very good relationship and it is a golden legacy."
Shri Patnaik said, "Today's meeting was a courtesy call and there was a nice informal discussion. There was no in-depth discussion on serious political matters. The federal structure in India should remain permanent and strong."
"We have discussed about the democratic rights and the nation's safety. Let's hope that our people should be safe and sound. As Naveenji said, our federal structure should be very strong and strengthened. I appreciate and strongly support this," Mamata said.
Asked about any discussion on formation of a possible third front for the next election, she replied, "Why are you in a hurry for the election. Still one year left for the election."
The West Bengal CM thanked Odisha CM for handing over 2 acres of land in Puri for construction of Biswa Bengal Bhawan for accommodation of tourists from West Bengal.
Mamata also requested Shri Patnaik for development of an industrial corridor between the two states for smooth transportation of iron ore from Odisha for West Bengal industries.