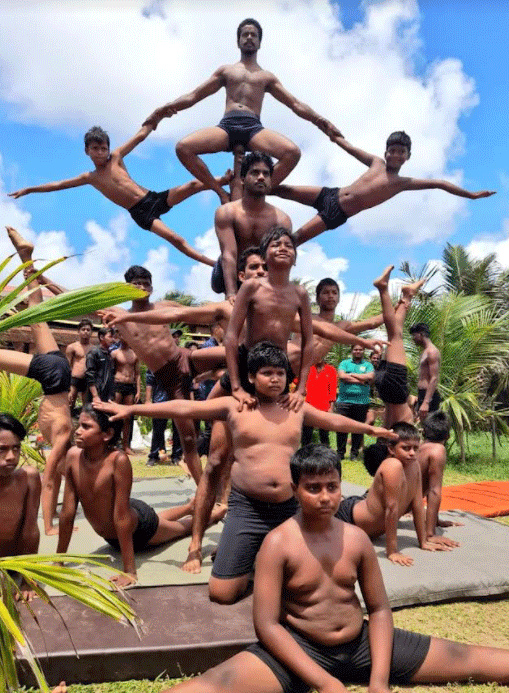 Bhubaneswar: When entire India is talking about sports in the aftermarket of the Tokyo Olympics, youths practicing traditional sports Mallakhambh has been witnessed in Holy town Puri.    
Sports and Youth Services Secretary R Vineel Krishna has shared a small video clipping of Mallakhambh at the Puri beach.
"Mallakhambh at the Puri beach – State trials. Happy to see such great talent in traditional sports," Mr.Krishna said in his tweet. Renowned film director Nilamadhab Panda has surprised after seeing the video, where a youth performing on the Mallakhambh (wrestling pole).
Mallakhambh is a vertical wooden pole made of teak wood or sheesham is fixed to the ground. The pole is smeared with castor oil, which helps to minimize excessive friction. Participants perform various acrobatic feats and poses while hanging on the pole. Wrestlers mount, dismount, and utilize the pole for various complex calisthenics designed to develop their grip, stamina, and strength in the arms, legs, and upper body.
Giving more information about the video clipping, the Sports Department said, "The kind of talent we have in #Odisha is incredible! This is rightly seen from the State Level Selection Trials of #Mallakhamb held at Puri today. Meaning "wrestling pole", Mallakhamb is a traditional sport that is widely followed and played in over 20 states in India."
The Odisha State Selection trial for Mallakhambh which will be making its debut in the Khelo India Youth Games 2022 got underway in Puri yesterday.
The traditional sport of Mallakhamb has a history since the Second Century BC.
Rani Laxmibai of Jhansi was fond of playing Mallakhambh too. The sport featured as a 'demonstration sport' at the 2020 Tokyo Olympic Games.