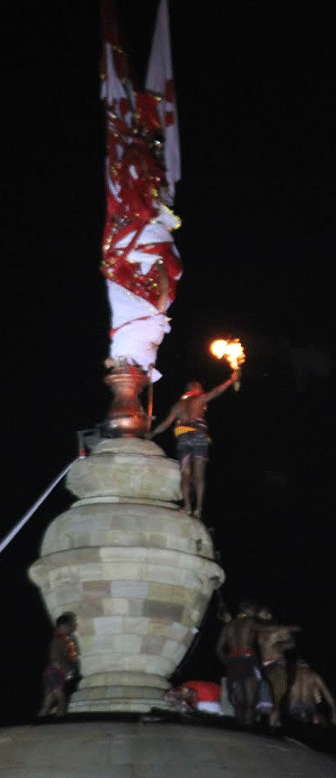 Bhubaneswar: The Shree Lingaraj Temple here was all decked up on Tuesday for the auspicious 'Maha Shivratri' festival.
The Temple's entrance was lit up with decorative lights. Also, trees in front of the temple premises were decorated with lights.
Due to the pandemic devotees was not allowed inside the sanctum sanctorum of the temple. But they had darshan of Lord Lingaraj at Aada Katha of the 11th century temple.
Devotees entered the temple from Singhdwara and exit was made through Dakshinadwara and Uttaradwara. Also, they were screened at the entrance of the temple.
Meanwhile, the temple authorities issued the detailed schedule of the 'Maha Shivaratri' rituals today.
As per the schedule, 'Sandhya Dhupa and Tirtha Jala Aanayana' ritual was performed between 8.55PM and 10 PM on 1 March.
The 'Mahadeep Darshan' was held at 10.20 PM on 1March.
The Bhubaneswar Municipal Corporation (BMC) has also issued a set of guidelines to be followed during the celebration of the festival at the Shree Lingaraj temple.
Devotees lighted deepas (wicker lamps) on the premises of the Shree Lingaraj Temple by following the Covid norms.
Devotees were advised to wear masks appropriately all the time while maintaining physical distance. Facilities for hand washing, hand sanitizer was ensured by the temple authorities.
Chewing of pan or gutkha's or any kind of spitting in or around the temple has also been strictly prohibited.
Bhajan Samaroha and Cultural Mahotsav of Shree Lingaraj was held at the Bhajan Mandap in-front of Shree Lingaraj Temple on the auspicious occasion of Mahashivratri. Concert was conducted by Ace Singer Anuradha Padwal and others.