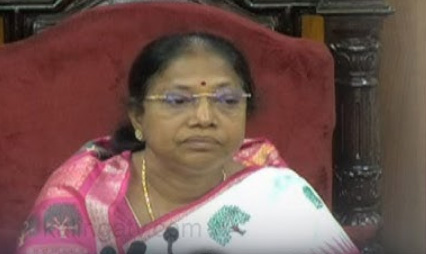 Bhubaneswar: In a historic moment, Veteran Lawmaker, Pramila Mallik has been elected as first woman Speaker of the State Legislative Assembly unanimously.
Deputy Speaker Rajani Kant Singh has made this announcement in the Assembly following due procedure.
Chief Minister and Leader of the House Naveen Patnaik moved the motion to select Pramila Mallik as Speaker of the House.
Shrimati Mallik was first elected to the Assembly in 1990, and she was serving as a Minister in the present Government and also previously. She had also served as Government Chief Whip, he said.
"With her rich experience, she will be a successful Speaker. I request all the Members to support her," the Chief Minister said.
Parliament Affairs Minister Niranjan Pujari seconded the motion. On Voice of Votes, Shrimati Mallik has been elected as Speaker of the House unanimously.
After the announcement, the Chief Minister, Deputy Speaker, BJP Chief Whip Mohan Majhi, Congress Legislature Party Leader Narasingha Mishra escorted Shrimati Mallik to the Speaker chair.
From today onwards, the MLA started calling "Madam Speaker' while addressing the Chair in the House. A new era began in the entire history of Odisha Assembly.
Shri Patnaik thanked all members of the House for unanimously electing her as the Speaker. He also thanked the Deputy Speaker for smoothly conducting the House proceedings as an Acting Speaker.
BJP Chief Whip and CLP Leader congratulated Shrimati Mallik and hoped that she will maintain impartially in the House.
"As the ruling party has a majority in the House, they will try to suppress the voice of the Opposition. So, it is the duty of the Speaker to protect the Opposition at such times. I am sure that you will stick to the statement to maintain impartiality," Shri Mishra said.
Shrimati Mallik, a six-time legislator from Binjharpur constituency in Jajpur district is currently holding the Revenue and Disaster Management portfolio in Chief Minister Naveen Patnaik's Cabinet.
She was elected to the State assembly election for the first time in 1990 on a Janata Dal ticket. Later, she won the elections in 2000, 2004, 2009, 2014 and 2019 on the BJD ticket.
She had also held the post of Chief Whip of the BJD in the recent past. Mallik had also earlier served as Women and Child Development Minister in the Naveen Patnaik dispensation.
The Speaker election took place on September 22 following the resignation of Bikram Keshari Arukha on May 12.