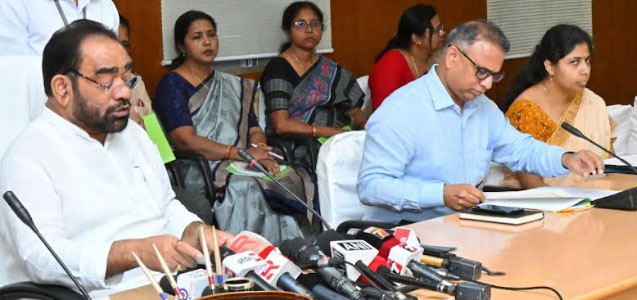 Bhubaneswar: On the first day of monsoon session, Finance Minister Bikram Keshari Arukha on Friday tabled the Supplementary Budget of Rs 28,200 crore for the year 2023-24 in the State Legislative Assembly.
The Supplementary provision of Rs.28,200 crore comprises Rs.2,864 crore towards Administrative Expenditure, Rs.4,664 crore towards Disaster Management Funds, Rs.572 crore towards Transfer to Local Bodies and Rs.20,100 crore towards Programme Expenditure.
About 71% of the Supplementary provision is meant for augmenting outlay for Programme Expenditure. Out of the provision for Programme Expenditure of Rs.20,100 crore in Supplementary Budget, Rs.10,684 crore, about 53% is allocated for Social Sector, Rs.8,473 crore, about 42%, is allocated for Economic Sector and balance Rs.943 crore, about 5% is allocated for General Services sector.
Thus, in total Rs.19,157 crore (95%) is allocated towards developmental expenditure within the Programme Expenditure. The total Capital outlay in the Supplementary budget is Rs.5,309 crore, which is about 19% of the total Supplementary budget.
The Supplementary Budget focuses on universal quality health care, transforming education, empowerment of women, rural connectivity, agriculture and irrigation, industries, infrastructure, sports and other priority sectors.
Once again, the focus has been on Programme Expenditure which is about 71 percent of the total supplementary budget. Under Programme Expenditure, an additional sum of Rs. 3651 crores for education, sports and skill development sector, Rs.1554 crores for Social Security & Mission Shakti, Rs.1262 crores for Energy, IT, Commerce, Transport and R&D sectors taken together, Rs. 1136 crores for ST & SC Development and Minority & Backward Class Welfare, Rs. 862 crores for public health care, Rs.2091 crores for irrigation facility, farmers' welfare and food security have been provided in the Supplementary Budget, 2023-24.
Under the Administrative Expenditure, an additional fund Rs.2,864 crore has been provided to meet expenditure on salary, dearness allowance, arrear salary of judicial officers, provision of salary for the initial appointees upon regularization, maintenance of assets, etc.
A sum of Rs.196 crores has been provided for conduct of elections including police arrangement. Rs 200 crores have been provided in the supplementary budget for House Building Advance given to employees of the State Government.
In the Supplementary Budget, under new schemes and initiatives, the Government has allocated Rs.1302 crore for Ama Odisha Nabin Odisha, Rs.556 crore for Location Accessible Multi-modal Initiative (LACCMI) scheme, Rs.153 crore for construction of additional class rooms in schools through PRIs, Rs. 110 crore for Mukhyamantri Chhatra Chhatri Paridhana Yojana, Rs.12 crore for Odisha Birth & Death Registration System (OBDRS), Rs.210 crore for Odisha Metro Rail Transport, Rs.21 crore for Odisha Transport Drivers & Workers Welfare Scheme, Rs.38 crore for Jagruti, Rs.252 crore for IT Connectivity to GPs, Rs.14 crore for Operation and Management of Block Level Bus Stands and Rs.9 crore for SUDAKSHYA.