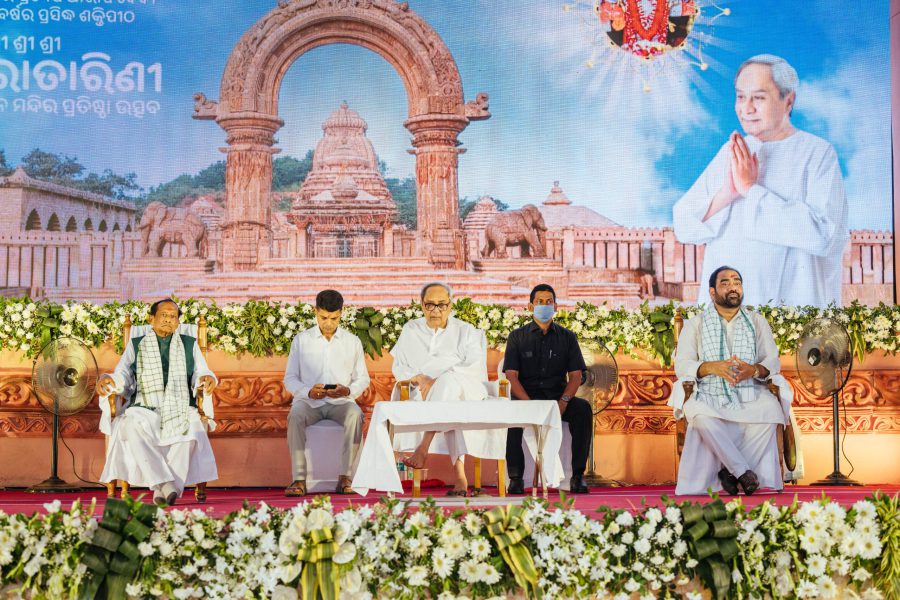 Berhampur: Maa Tara Tarini Peeth on Kumari hills and devotees soaked in religious fervor as Chief Minister Naveen Patnaik inaugurated the revamped Maa Tara Tarini Temple here atop the hill, and prayed for the "wellbeing of one and all".
The environment reverberated with chanting of Mantras by the priests and sound of drums.
Mr.Patnaik took part in the consecration rituals at the temple, situated on the banks of river Rushikulya, as its Chief Patron at the end of the five-day ceremony ahead of the 'Pratistha' ceremony of the revamped temple.
Mr.Patnaik, after reaching the hilltop first offered obeisance to the presiding deity of the district.
Dedicating to people the newly built infrastructure at the temple complex, built at a cost of Rs 115 crore, Chief Minister said the amenities provided, such as a dining place, a discourse hall and street lamps, would prove to be 'highly beneficial' to the tourists and devotees
He expressed his gratitude to the workers, artisans and masons for their contributions.
"Odisha is Debabhumi. The worship of Shakti is an age-old tradition in the State. The worship of Shakti is being performed in nook and corner of the State. Maa Tara Tarini is the presiding deity of the district and with the people in their happiness and sorrows," he said.
The revamp was possible only due HER blessings, CM said and added that Odishan art is unique.
"I offered prayers to Maa Tara Tarini, sought her blessings for the welfare of Ganjam people. Whenever I visit this temple, I find peace," he said as thousands of people from every nook and corner of Ganjam and nearby districts thronged the shrine to witness the rituals being performed on the last day of the consecration ceremony.
Senior Servitors from Shree Jagannath Temple in Puri, Shree Lingaraj Temple in Bhubaneswar, Maa Samaleswari Temple in Sambalpur were among those who performed the rituals.
Odisha Legislative Assembly Speaker Surjya Narayan Patro and Minister Parliamentary Affairs Bikram Kesari Arukh also addressed people at the event.
Maa Taratarini Temple, considered one of the most revered Shakti Peethas and Tantra Peethas, is a major pilgrimage centre for Hindus.
Notably, ace sculptor and former MP late Padmashri Raghunath Mohapatra played a prominent role in the designing and renovation of the temple.
A ropeway has now been built at the shrine for the convenience of the devotees and visitors who earlier had to climb the steep hill to pay obeissance .
The Chief Minister on the occasion felicitated Snitesh Mahapatra –the grandson of late Raghunath Mohapatra and sculptor Narayan Tripathy.
Nearly 30 kilometers away from the Silk City Berhampur, the 'Bhumi PUjan' for the renovation was done when Chief Minister's Secretary VK Pandian was the Collector of the District.
Speaker Surya Narayan Patro and Minister Bikram Keshari Arukha, who hail from the district also were present on the occasion.