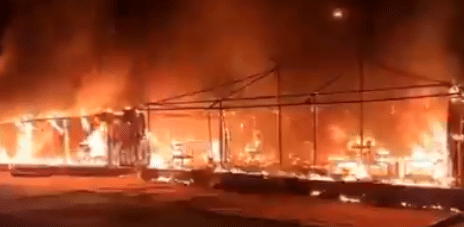 Bhubaneswar: Lord Jagannath has been very kind to IPS Couple Sanjeeb Panda and Santosh Bala.
The IPS Family is facing Fire Incidents frequently; however by Grace of God they are being saved time and again.
Take the example of Satkosia Eco Retreat, Baliput, in Narasinghapur of Cuttack.
IPS Couple were in a tent that caught fire, however they were saved.

Both are ardent devotees of Lord Jagannath, a family friend confirmed.
At least three tents were burnt in a fire on early Sunday morning at the Satkosia Eco Retreat.
No loss of life or major injury to any tourist was reported in the incident.
Sanjeeb Panda tweeted "By the grace of God, me and Santosh escaped without any injury as fire broke out in our tent at Satkosia Eco Retreat at about 5am due to electrical short circuit. Three tents were burnt and there was no injury to anyone,"
Another example of 7 October, 2020 Raj Bhawan Petrol Pump Fire Incident.
A major fire broke out at a fuel station near Raj Bhawan in Bhubaneswar following an explosion. Two died due to the blast.
The explosion at the fuel filling station was so intense that nearby houses felt terrible shake.

Prima facie, a CNG tank at the fuel pump exploded, leading to the fire.
Mr.Panda then tweeted "Our house has been extensively damaged due to blast at the Raj Bhawan petrol pump. Thank you friends. With God's grace my daughter Shreya had a narrow escape. All are fine. Our house is just 25 metres away from the blast site".
"It is all miracle and Lord Jagannath has been very kind to both Sanjeeb and Santosh, said a family friend and Top IT Honcho, adding they are very kind hearted and helping Top Cops.