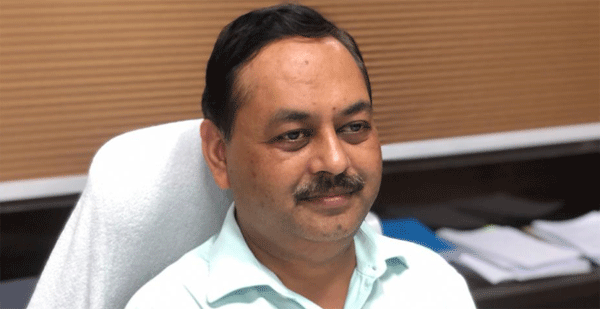 In order to take a stock of the poll preparedness Chief Electoral Officer, Sushil Kumar Lohani conducted a tour of both the districts of Balasore and Jagatsinghpur in which Bye-elections are being conducted and voting is to be held on 3 November 2020.During the review at Balasore, Mr.Lohani emphasized on the strict adherence of COVID-19 protocols by the authorities in all stages of the Election process, official sources said.
The District Nodal Officer for Health who is looking after the compliance of the Guidelines of Commission for a COVID safe Bye-Elections at Balasore informed that there are Sectoral arrangements already in place to supervise the work of the ASHA workers who will conduct the thermal scanning of the voters coming to vote on Poll Day at the entrance of the Polling station.
As per the arrangements made the voters who are found to have temperature more than the norm fixed by MoHFW ( ie. 38 degree Celsius or 100.4 degree Fahrenheit) will be checked twice and if found to have above the norm temperature will be issued yellow cards (waiting slips) signed by the Presiding Officer of the concerned booth.
Such voter will come for voting in the last hour of the poll ie. at 5.00PM in the afternoon and wait to vote after the normal voting is over when the polling parties can take up the vote with full PPE KIT supplied to them as a measure of safety assured for the polling Personnel.
The CEO also reiterated on the confusion of Absentee Voters who are thinking of voting again at the Polling Station after recording their votes through the Postal Ballot(PB) Paper.
It was made clear that as in the process of Postal Balloting the Marked Copy of electoral Roll already gets marked as PB against the voter who had opted for voting and a Postal Ballot already issued in his/her favour such voter cannot vote in the polling Booth on poll day.
The CEO reviewed in detail the dispersal arrangements, safety and security of the Polling personnel and sanitization of the booths and the dispersal / receiving centers.
He also visited and reviewed the counting centre arrangement. Considering the Social distancing norms to be observed during COVID-19 both the constituencies ie. 38- Balasore and 102-Tirtol will have three counting halls each. One out of the three halls will be meant exclusively for the Postal Ballot Count. Special provision is being made to enable the display of the EVM counting through LED screens so that the Counting agents don't crowd the near the counting tables.
While the General Observer from ECI for 38-Balasore attended the review at Balasore, the State Nodal Officer of Police( L&O) Praveen Kumar and Joint CEO Satrughna Kar also accompanied Mr.Lohani in this tour.
District Collectors , SPs of both the districts , the respective Returning Officers and all concerned Nodal Officers attended the review .