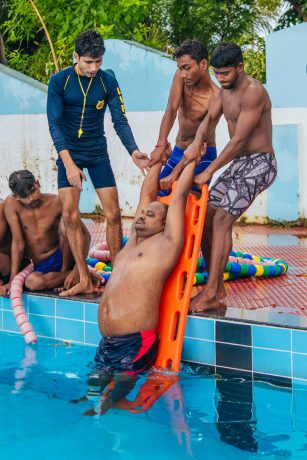 Bhubaneswar: The Sports and Youth Services Department (DSYS) has taken on to itself to not only promote swimming as a competitive sport from grassroot to elite but also inculcate the love of swimming amongst public since it is an essential life skill and supports many aspects of childhood and adult development.
And for this the Department has partnered with Life Saving Society of India, a member of the International Lifesaving Federation for India and the national body for Training and Certification of various life saving and aquatic disaster courses, to conduct a ten-day lifeguard and pool operator course at the state-of-the-art, all weather, Biju Patnaik Swimming pool at the Kalinga Stadium.
The training programme commenced on September 27 and will continue till October 6 and train 20 lifeguards.
A lifeguard is responsible with his or her team to maintain safety and prevent accidents in water bodies under his/ her care. The lifeguard and pool operator course, led by professionals, is imparting expert training, and covering the skills and knowledge of first aid, resuscitation, swimming and water safety to participants, a Department official said.
The participants are also being taught management of a safe pool, measures to prevent accidents, scanning of the pool, advanced aquatic rescue skills, use of rescue equipment, basic water treatments and maintenance and complete first aid, he said.
The programme, which has both practical and theory components, uses the latest equipment and a range of realistic and practical scenarios to help consolidate learning and ensures the future lifeguards are skilled and confident in applying newly learned strategies and techniques.
Post their training and assessment these lifeguards will be deployed at different locations across the eight grassroot swimming pools in the State, the official said.
Lifeguarding being a dynamic, in-demand profession, can open up a wide variety of opportunities for career advancement for the life guards such as supervisor, duty manager, facility manager, swim teacher, assessor and trainer.