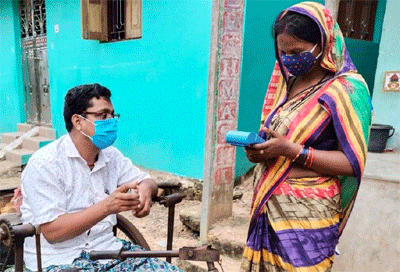 Bhubaneswar: With Self Help Group members serving people as Banking Correspondent Agents (BCA) in an effective manner to extend banking services in the unbanked and under banked gram panchayats, 1000 more women SHG members have been targeted to be engaged as BCAs.
There are 1262 BCAs working across the State for five banks as of now and have been able to undertake transactions amounting Rs 230 crore during 2021-22 financial year.
The State Government's pioneering steps in engaging the SHG members as BCA in unbanked and under-banked gram panchayats to provide different banking services to citizens has turned out to be successful.
A total 1262 BCAs are engaged from the SHGs as the State Government in Department of Mission Shakti has signed partnership with YES Bank, SBI, ICICI, Utkal Grameen Bank and Odisha Gramya Bank.
While YES Bank engaged 498 BCAs, SBI appointed 296, Odisha Grameen Bank has engaged 236 BCAs, Utkal Grameen Bank has kept 138 and ICICI Bank has taken 94 BCAs from SHGs.
Looking at the success rate, another 1000 BCAs will be engaged during 2021-22, so more SHG members will get opportunity to serve the citizens in unbanked and under-banked GPs, said a senior official.
The State Government has directed several other banks also to engage women SHGs as BCA, said a senior officer.
More than 2/3 of the 6798 Gram Panchayats are still not covered by brick and mortar banks and the BCAs are serving the citizens in the rural zones.
WSHG members as BCAs are more appreciated in these areas as they are serving with more sincerity, officials feel.
This financial year more than 2.80 lakh SHGs are targeted to have credit linkage worth more than Rs.6000 crore while during the last five months only 64,550 SHGs are covered with credit linkage.
More than 45,650 applications are pending with banks for credit linkage and banks have been directed to issue suitable instructions for expanding the linkage.