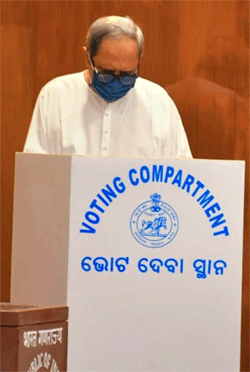 Bhubaneswar: In Odisha a total of 146 of the 147 MLAs of Odisha Legislative Assembly including Chief Minister Naveen Patnaik Monday exercised their franchise to elect the country's 15th President.
The voting for the Presidential Elections held on the premises of Odisha Legislative Assembly with adherence to COVID-19 protocol began at 10 am and continued till 5 pm.
The noted absentees in the Presidential voting were- Leader of Opposition Pradipta Kumar Naik of BJP and BJD's expelled lawmaker Prashant Jagdev.
While Mr.Naik, who is undergoing treatment for post-COVID-19 aliments in Delhi, cast his vote at the Parliament, Mr.Jagdev did not turn up to cast his vote as he is lodged in jail after being arrested in a criminal case during the panchayat polls in February.
Chief Electoral Officer(CEO) Sushil Kumar Lohani, said 141 members cast their votes by 1 PM and remaining four MLAs came to exercise their franchise before the process ended at 5 PM.
No MP or any MLA from any other State came for voting to the Odisha Legislative Assembly even as the provision was there for the same, a senior official said.
Chief Minister Naveen Patnaik was among the early members to cast their votes. While Mr.Patnaik become the first from BJD to cast his vote, BJP lawmaker Mukesh Mahaling exercised his franchise as soon was the polling booth opened at 10 am.
Taking to Twitter, Mr.Patnaik said: "It is an honour to cast my vote for the #PresidentialElection. It is indeed a matter of prode for our state that the daughter of #Odisha, Smt. #DroupadiMurmu is a candidate for the highest office of our country. Wish her all the very best."
Defying the party line, Md.Moquim said: "I cast my vote in favour of Odisha Daughter Ms.Murmu as per my conscience and there was no pressure for that. Many eminent persons and Odia friends staying abroad had also suggested me to support Odisha daughter and go by conscience."
There was lot of enthusiasm among the lawmakers to cast their votes in the Presidential elections as someone from the State for the first time was contesting for the country's topmost Constitutional post.
It is also probably for the first time in the history of presidential election in the State that both the ruling party (BJD) and the main opposition (BJP) are supporting the same candidate. Congress has announced to support Opposition candidate Yashwant Sinha in the presidential poll.