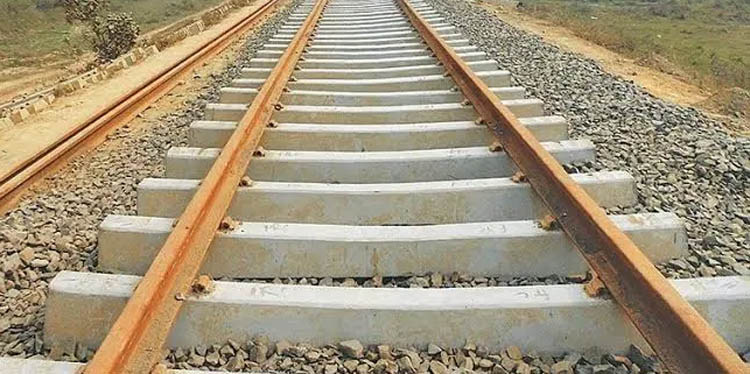 Bhubaneswar: The much-awaited Khurda Road-Bolangir (KRB) Railway line project is being delayed due to non-issue of Stage-I forest clearance by the Union Government.
Out of the total length of 301 km of the Khurda Road-Bolangir new railway project, 91 km from Khurda Road to Nuagaon has been commissioned while work is in progress from Nuagaon to Daspalla (91 km to 106 km) and target is set to commission it by March 2023, official sources said here on Tuesday.
The work from Daspalla to Buguda (106 km to 121 km) is very slow due to non-issue of Stage-I forest clearance from the Ministry of Environment, Forest and Climate Change, the source said.
Similarly, work from Buguda to Banigogchha is also yet to start due to non-issue of the Stage-I forest clearance.
In total, the Government of India is yet to issue required forest clearance from 112 to 180 km while the work from 180 to 275 km is in progress and work at 275-301 km already commissioned.
For forest clearance, the State Government has already sent its proposal to the MoEF Regional Office, Bhubaneswar. This issue was also raised during the recent meeting of the Regional Empowered Committee, the source informed.
The Odisha Government has given land free of cost from 112 km to 301 km and bearing 50 per cent construction cost for the Khurda Road-Bolangir railway project. However, due to non-issue of the Stage-I forest clearance by the Central Government, the work cannot start in between 112 km to 118 km, an official admit.
Earlier, Union Railways Minister Ashwini Vaishnaw had informed the Parliament that the completion time of the Khurda Road-Bolangir new line project cannot be ascertained at this time.
Giving a written reply to Rajya Sabha, Mr.Vaishnaw had stated completion of any railway project depends on various factors like quick land acquisition by State Government, forest clearance by officials of forest department, shifting of infringing utilities, statutory clearances from various authorities, geological and topographical conditions of area, law and order situation in the area of project site, number of working months in a year for particular project site due to climatic conditions, etc.
This project involves acquisition of 6162 acres land and diversion of 1844 acre forest land, out of which 5208 acres land has been acquired and diversion of 170 acres forest land has been completed. Further, acquisition of 954 acres land and diversion of 1674 acre forest land have been taken up, he had informed.
This Railway Projects was sanctioned in 1994-95 and even Prime Minister Narendra Modi during Pragati Review meetings had already expressed concern for delay in completion of the project.