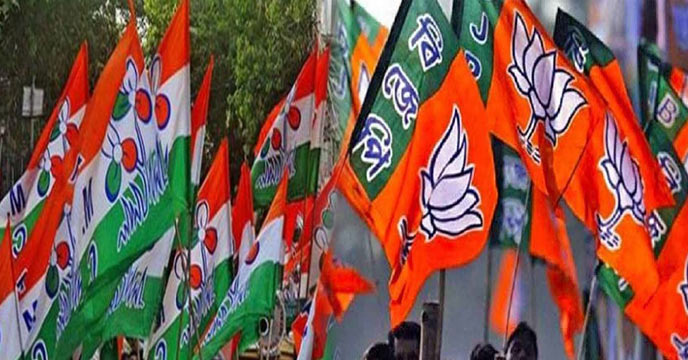 Bhubaneswar: For the first time, a simple slogan, "Khela Hobe" has generated a tremendous response in the political and social spheres. The rallying cry is making rounds across the country, including Odisha, as the neighbouring West Bengal has plunged into an intense and highly charged electioneering.
The resounding and enchanting appeal of Mamata Banerjee's "Khela Hobe" is not confined to Bengal alone; it has already become a national slogan. People in the streets, students on campus, scientists in laboratories and even crew members in flights have started chanting the phrase "Khela Hobe."
A young TMC leader Debangshu Bhattacharya has written the Khela Hobe song, and Mamata Banerjee has been using the song as the anthem of the party. "Bondhu ebar khela hobe, khela khela khela hobe", goes the song. Interestingly, Khela Hobe has gone beyond its political confines. Bengalis and other Indians passionately play the song at birthday parties, wedding ceremonies, and even puja celebrations.
All India Trinamool Congress (AITMC), headed by Chief Minister Mamata Banerjee, has come face to face with the Bharatiya Janata Party (BJP) led by Prime Minister Narendra Modi and Home Minister Amit Shah. As both the rival groups are engaged in such a tough fight, people have forgotten the role of Congress and left parties that ruled West Bengal for several decades. It is mostly Mamata Vs Modi, Didi Vs Modi. No other party or front matters when two heavyweights of Indian politics are staring down at each other.
No one is giving any chance to the rival, be it in electioneering, preparedness, spending money, mobilizing people or wooing the voters. Election graffiti was Bengal's gift to Indian politics, but in the digital age, slogans, DJ and pop songs have replaced graffiti. Khela Hobe is Mamata's reply to Narendra Modi and his followers ridiculing Didi. While Didi's "Khela Hobe" slogans resounded in the lanes of Delhi, a nervous Modi was forced to proclaim "Khela Shesh" at a public rally in Purulia, meaning that the game was over for Didi.
Never before in Indian politics, leaving aside the Independence struggle, have just two words been so forceful. Though Modi replied to Didi in a similar two worded slogan like "Khela Shesh", it lacked such an appeal as the TMC's "Khela Hobe". Many slogans have been heard in a tough election battle between BJP and TMC, but "Khela Hobe" towers above all.
The large hoardings showing a bandaged foot of Mamata and another foot on a football with the title "Khela Hobe" (Game is on) are sprinkled across West Bengal. Didi has perfectly charged the mindset of the Bengalis. Though Modi's "Khela Shesh" hoardings are also seen, it could not create the impact of Didi's hoardings. The BJP gives a message that TMC's game is over, and it's the turn of development to take the lead in West Bengal.
However, what irks Modi and company about "Khela Hobe"? The song in the Bengali language from the very beginning goes on saying: "Bargis (intruders) come from outside/ visit the state every month while I am here and you are also here/ friends, the game is on. It compares BJP as being "bargis" who were Maratha Empire's troops who invaded and plundered Bengal for about ten years."
The song also describes how many of the erstwhile party members of TMC have joined hands with BJP and how the West Bengal Chief Minister Mamata Benerjee has benefited the state's people with many of its welfare schemes. On International Mother Language Day on February 21, Mamata also used the "Khela Hobe" slogan. She said: "The game is on, and I am the goalkeeper. Let's see who wins."
In its bid to counter Mamata's "Khela Hobe", Modi criticized the TMC Supremo how she is seeking help from the leaders across the country after feeling the heat of BJP in her own land. In a letter to all the non-BJP parties and Chief Ministers, including BJD President Naveen Patnaik, Mamata cautioned how the BJP has been planning and working on finishing regional parties. She pleaded support of all the non-BJP leaders, including Congress, to come together to foil BJP's plan of making the "One Nation, One Party" a reality.
Now comes the real political turn when the people are waiting for the reply from Naveen, who, before the 2019 general elections, had said that that there is a need for regional parties to come close to each other and play an essential role in the government formation at the centre. However, Naveen has not so far replied to Mamata's letter and preferred silence. At the same time, his party rank and file privately opine that the BJD must play its role in Bengal politics. The saffron brigade is growing in the neighbourhood and attempting to defeat TMC. It will be politically incorrect to sit idle in Odisha when the enemy has already reached the neighbouring state, creating havoc and trying to dislodge mighty Mamata Banerjee.
The BJP leaders from Odisha, like Union Minister Dharmendra Pradhan and others, are active in Bengal polls. Simultaneously, BJD has kept its party insulated from the developments taking place there.
It should be mentioned that there are at least 9 lakh Odias in Kolkata alone, and their number across West Bengal should be more than 20 lakh. There are 67 Odia organizations in Kolkata, and Pradhan has been touching every such organization. The relatives of all the 20 lakh Odia people living in Bengal have their family members back in Odisha. Such effort may come in handy during the elections in Odisha. Therefore, Naveen must play his role in Bengal politics and kill two birds in one stone. First, he can teach BJP a lesson in Bengal and also maintain the Regional party "dharma", said a BJD insider.
Recently, BJD Vice-President Debi Prasad Mishra visited Kolkata and addressed the Odia people's meeting on Utkal Divas. But, the visit was cultural and had nothing political about it. If the BJP wins Bengal, it will gain further strength and intensify its activities in Odisha, which will politically harm Naveen's BJD. As part of the war strategy, the BJD should rise to the occasion and play its role when its political rival is going all out to carve out a major base for itself across Odisha's border.